Winner:
Charley Hoffman
Around the wider world of golf: Ted Schultz got his first Champions Tour win at the Home Care & Hospice First Tee Open; Kevin Kisner got his first Nationwide Tour win at the Mylan Classic; Miguel Angel Jiménez won his third tournament this year at the Omega European Masters on the European Tour; Ryo Ishikawa won the Fujisankei Classic on the Japan Tour; Cindy LaCrosse won the Price Chopper Tour Championship on the Future's Tour, their final event -- Cindy LaCrosse, Jennifer Song, Christine Song, Jenny Shin and Gerina Mendoza got their LPGA Tour cards -- congrats, ladies! (you can get more info at Mostly Harmless and HoundDogLPGA); and Akane Iijima won the Golf5 Ladies on the JLPGA (also at Mostly Harmless). Wow, I thought Labor Day was a holiday weekend!)
Ok, first things first... Tiger Woods continued improving. He finished at -10, a T11 finish, with his best score other than his -11 at the Masters. In fact, since his poor showing at Bridgestone, he has improved each week since. He now sits at 51 in the FedEx race, so he gets to play next week.
And second things second... Tiger Woods is still ranked #1 and Phil Mickelson is still ranked #2. Tiger managed to beat Phil by 3 strokes this week to hold on to his position.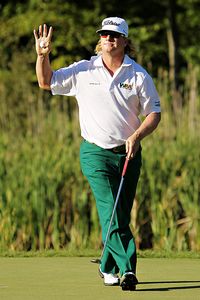 Now, those were pretty big stories, but Charley Hoffman managed to steal their thunder. His finishing round 62, complete with 11 birdies, 2 bogeys, and remarkable saves from all over the place, absolutely blew the field away as he cruised to a 5-stroke win. The guy with the Jeff Spicoli hair (remember
Fast Times at Ridgemont High
?) rode a wave of confidence that even
he
said he didn't see coming! But his scores as of late haven't been that bad, and apparently he found something he's been missing most of the year.
It's just a guess, but I bet it's the fairways and greens he hit this week. He was around 15 percentage points better in both, and when you putt the way Charley does (13th on Tour) and you make birdies the way he does (4th on Tour) when you
don't
hit the fairways or greens... well, this wasn't as big a surprise as it might seem.
(The pic comes from this blog post at ESPN.go.com.)
And while he's pretty far down the Ryder Cup list of possibles, there was some discussion after the event that he might have caught Corey Pavin's eye. One thing's for sure: Charley made it clear that he wants to play on the team and believes he can help. I don't expect him to get the call, but he certainly made things interesting!
Only Geoff Ogilvy and Tom Gillis managed to put on a final round run, but what can you do against a -9 when the guy was ahead of you at the start?
So yesterday the California boy got his second Tour win... and today he gets his very own limerick. And just for the record... a parley is a conference or discussion.
"That was awesome, dude!" "Man, that was gnarly!"
Surfers rarely shoot curls the way Charley
Did. He said "Earl has blown—
I'll make waves of my own!"
Might this win cause a Ryder Cup parley?