Alright, just hear me out here...
I was just checking out the Mizuno Classic leaderboard, where Jiyai Shin is currently leading by one (as I'm writing this, that is) and it got me to thinking how similar her game is to Lee Westwood's, who is just one off the lead on the WGC-HSBC Champions leaderboard.
Crazy, you say? Well, here's a quick comparison of their stats -- Jiyai's is from the LPGA site and Lee's from the EuroTour site:
Jiyai Shin:
World Ranking: #1 for 1 week
Scoring Average: 70.16
Wins in 2010: 1
Driving Distance: 238.3 yards
Driving Accuracy: 78%
Greens in Regulation: 70.3%
Sand Saves: 62.5%
Putts per GIR: 1.75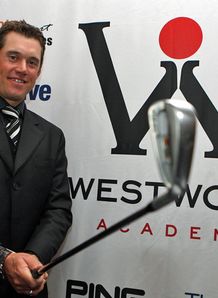 Lee Westwood:
World Ranking: #1 for 1 week
Scoring Average: 70.58
Wins in 2010: 1
Driving Distance: 295 yards
Driving Accuracy: 68.69%
Greens in Regulation: 68.94%
Sand Saves: 33.33%
Putts per GIR: 1.74
That's just amazing to me! Yes, there are some differences:
Lee is much longer relative to the other men than Jiyai is relative to the other women;
Jiyai is much more accurate than Lee (that's a trade-off I think you'd expect, given the distance difference), and
Jiyai is about twice as good out of the sand as Lee (that was a bit of a shocker, but Lee has always said that his short game is the weakest part of his game).
However, I think the likenesses of our two most recent World #1 players are quite striking.
Similar scoring average
Same number of wins this year
Good drivers
Similar GIR percentages
Similar Putts per GIR (I couldn't find a total Putts per Round for Jiyai, but I suspect those figures would be pretty close as well)
Is this more than a coincidence? The #1 male and female players in the world are both extremely consistent players. Neither has a particularly flashy game, yet each is capable of going low at any given time -- for example, both shot a first round in the mid-60s this week. Both drive the ball pretty accurately
(although each has days when they can't hit a fairway... and usually at the worst possible time)
, both are pretty deadly with approach shots, and both are good putters. In fact, more times than not it's a balky putter than derails them.
Perhaps fans prefer the flash and dash of swashbuckling players, but it appears that the meek (or at least the consistent player who just plods along and wears his or her opponents out) are inheriting the top honors. I wonder what this bodes for the future of golf? What a pair to top the World Rankings!
But as well-matched as they appear to be, Lee's wife and kids would probably have other thoughts about it. So let's not start rumors, ok?