Winner:
Gary Woodland

Around the wider world of golf: The Tseng Dynasty is already under attack! Karrie Webb posted her 2nd LPGA win in row at the inaugural RR Donnelley LPGA Founders Cup. And the European Tour will have to wait until Monday morning to crown a winner at the Sicilian Open; currently Raphaël Jacquelin holds a one-stroke lead.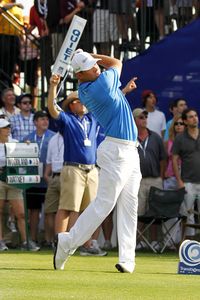 Going into the final day of the Transitions Championship, the leaderboard was so crowded that at least a dozen players had a chance to win. The 54-hole leader Justin Rose and last week's winner Nick Watney were the main players near the lead with any experience winning.
That didn't last. Both faded pretty quickly, leaving the field wide open for yet another first-time winner this year... and the battle was on.
The lead went back and forth among several players. Only one could win... but in the end, several players profited from the battle.
Mark Turnesa's T5 was his best finish of the year, coming off 3 missed cuts and best finish of T58.
Scott Stallings, a Tour School grad who was in danger of losing his priority in the reshuffle after five missed cuts and a T42, nailed a solo 3rd and a spot in the Shell Houston Open.
Even new father Webb Simpson, whose solo 2nd must have felt like a loss, probably made enough to seal his card for 2012 -- an important consideration with a new baby!
But Gary Woodland's maiden win had to be a dream come true. After three Top 6s, including a playoff loss to Jhonattan Vegas at the Bob Hope, he gets his first win in only his 34th career start. Plus he grabbed a ticket to the Masters.
One notable comment by the TV commentators today -- and I can't remember who said it -- was that perhaps the "legacy" of Tiger Woods is something different from what everyone expected. Rather than an increase in African-American golfers, perhaps it's an increase in athletes who choose golf over other sports. As a former basketball player who switched to golf, Woodland certainly fits into that category.
Given all the snake metaphors surrounding the Copperhead Course, as well as the wildlife, it wasn't a huge stretch to write a Limerick Summary about a guy named Woodland:
Said Gary, that wild Woodland creature,
"Out here, I'm the obvious feature!
I'm more than a duffer—
This course is no tougher
Than watching the game from the bleachers."
Click the photo to read another tournament summary at ESPN's website.