Not quite lost amid the usual jostling of players for their Tour cards and this year's unexpected money list battle between Luke Donald and Webb Simpson -- separated by about $69k -- another little bit of history is taking place.
Bud Cauley is about to join the short list of players to play their way onto the PGA Tour. Get used to his name and his face.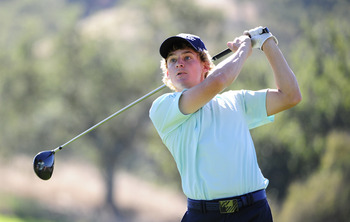 First, here's where he stands as of this morning. He's made $671,150 in 7 tournaments, which is (ironically) about $69k above #125 on the money list. That's the number he has to beat to get his card. Since he currently has enough to be #114 and will add a few bucks when he finishes the McGladrey Classic today, he's pretty much a shoe-in to get his card. Here are the 12 guys currently in positions 114-125:
Rod Pampling
Nick O'Hern
Michael Thompson
Tiger Woods
Stuart Appleby
Heath Slocum
Bobby Gates
Roland Thatcher
James Driscoll
David Mathis
Bill Lunde
Matt Jones
Thompson currently leads the McGladrey by 1 shot and O'Hern is T5. Somehow I don't think the rest of that list is going to catch our man Bud.
As you may have heard by now, only 5 other players have accomplished this feat:
Tiger Woods
Ryan Moore
Phil Mickelson
Justin Leonard
Gary Hallberg
What you may not know --
and thanks to USATODAY.com for this info
-- only Tiger and Phil got their cards in less than 7 tournaments. Phil won when he was an amateur and claimed that within a year, while Tiger won in his 5th start. The others all took at least 10 starts to seal the deal.
But get this: Bud has 2 Top5s and 1 MC in his 7 starts. But he qualified his way into 2 of his tournaments. He still has 2 sponsor exemptions left! (If you aren't a Tour member, you're allowed 7 exemptions.) That's pretty impressive in anybody's book.
Cauley fascinates me because he isn't what you'd expect in a modern Tour player. He's 21 years old and only 5'7", yet he's averaging 292 off the tee this season and he's also hitting 72% of his greens. (That puts him #1 in GIR this season.) He's 19th in that new Putting Strokes Gained stat the Tour is using now. And he hits it really close to the hole -- he's in the Top4 from 100-175 yards, and he's #1 from 200-225 yards.
After looking at those figures, I can believe what I heard on the broadcast Saturday. Apparently Bud's coach worked with Moe Norman, whose reputation for accuracy is legendary, and he said that it sounds just like Norman when Bud hits the ball.
Yeah, you better get used to Bud's name and face. I suspect you're going to be seeing and hearing about him a lot next year.
The photo came from this page.