Nobody is immune to struggle in life. Our strengths aren't always there when we need them, no matter how hard we work or how diligent we are.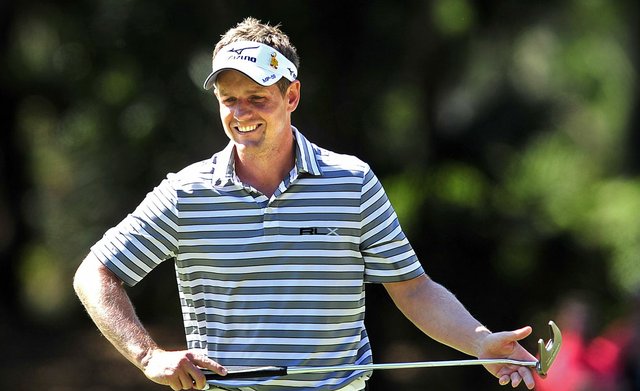 Luke Donald is going through that right now. He's struggling at the RBC Heritage, although he did make the cut. I was surprised to hear that someone close to him -- I don't remember who it was -- said that it was his short game, particularly his putting, that had betrayed him lately.
I think they're wrong. I'll grant you that he's missed quite a few putts lately but I checked his stats. He's still #1 in the Strokes Gained (Putting) category this year and T11 in Scrambling.
The problem appears to be GIR. The normally accurate Luke Donald sits at T143 on the Tour. That's almost unthinkable. It's certainly unexpected. And if he doesn't finish in the Top 8 this week, he'll lose his #1 ranking.
On
The Grey Goose 19th Hole
Friday night they were speculating on the why behind it all. Perhaps he's tired from last year, since all that globetrotting can take its toll. Maybe he just didn't get enough rest. I would add that he did go through two massive emotional swings right at the end of the year, with his father dying and his daughter being born within days of each other.
But I suspect Luke Donald is suffering from the same malady that the rest of us have to deal with on a daily basis.
He's human.
It's so easy to forget that no matter how good you are, changeability is part of being human. Even corpses decay. (Yuck. That's a pleasant thought.) Your best efforts today may not be as good as they will be tomorrow... or they may be much worse. You simply have to learn to deal with it.
Part of surviving the ups and downs of your golf game -- and life -- is learning to take it all in stride and accept your humanity. It helps to remember, at least in golf, that it's still just a game. That's not always easy, but it certainly makes it easier to rebound from the bad shots and bad breaks that inevitably come.
As the photo from the Heritage shows, Luke is still managing to smile and enjoy himself. Once you can do that, it's easier to regain your balance and get back on top of your game.
At least, as long as I'm not picking you to win.
I guess some things are a challenge for even the best in the world. ;-)
The photo came from this Golfweek story about the Heritage.