According to
catholic.org
, St. Jude is the patron saint of desperate cases. That's probably why Danny Thomas named his children's hospital after him -- they focus on saving children struggling just to survive.
It's beginning to look as if the FedEx St. Jude Classic deserves his attention as well.
This photo tweeted by John Picozzi
, showing the cartpath to the 18th green, says it all: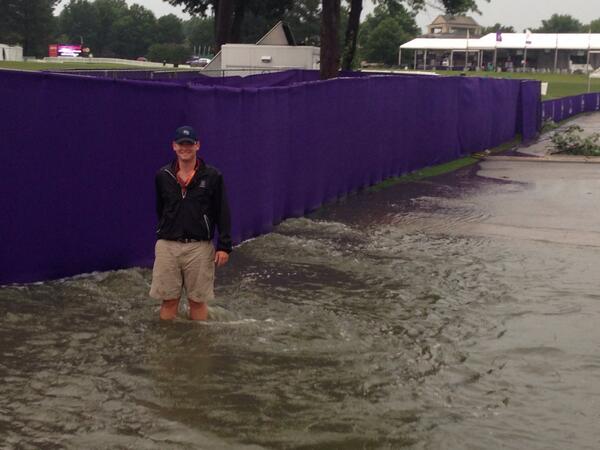 And according to PGATOUR.com's report
, only 32 players had finished both of their rounds by Friday evening.
With the US Open next week, the Tour is faced with some serious questions. While they would certainly like to finish this event on time, reality could step in and force a shortened tournament. There's supposed to be a 50% chance of rain and storms today; that goes up to 60% for Sunday. In fact, Memphis is under a flood watch until Sunday morning... and the least chance of thunderstorms is 30% on Monday. (It goes back up to 50% on Tuesday,
according to weather.com
.)
Depending on how things play out we could be looking at a 54-hole event, even with a Monday finish.
But perhaps St. Jude himself is sending a message to the field. After all the back problems Ben Crane has had over the last few years -- he's had to make changes to his swing just so he can play -- He Whose Leotard Can Not Be Tamed has taken a huge lead over the rest of the field. As he told PGATOUR.com in the report mentioned earlier:
"I certainly didn't expect to be here," said Crane, who's 150th in the FedExCup. "If someone would have told me a couple days ago I'd be standing in front of a bunch of cameras, I would have asked, 'What did I do?'
"It's been a really, really hard year. …You start wondering, 'Am I going to get it back?' "
Wonder no more, Ben. Perhaps this is a week for desperate cases to do more than survive. Let's hope so, for everyone's sake.