Just catching up on some recent events that don't require full posts but about which I have an opinion.
First of all, in case you haven't heard (and I know you're all interested), Billy Horschel's little girl Skylar Lillian arrived at 8:48pm Tuesday night. Billy tweeted that she's 20 inches and 6 pounds 6 oz. Here's the photo he tweeted: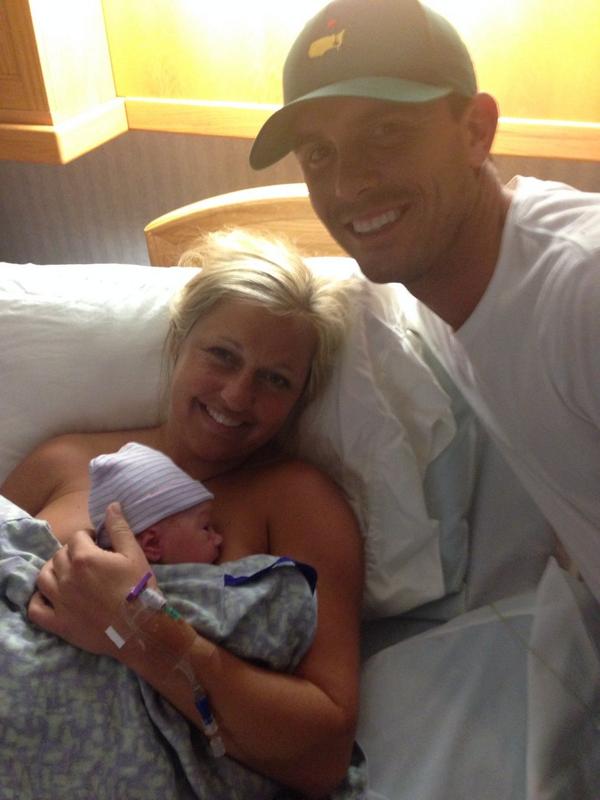 Looks like all is well and good in the Horschel household.
I've also been asked my thoughts about the Ryder Cup process for choosing players. It's been a big subject of debate this week since Billy won the last two FedExCup events after the deadline for the Captain's Choices. The assumption is that Tom Watson would have wanted somebody like Billy on the US team... and I can't say that I disagree. (I doubt he'd have enough energy to play though. Babies are pretty demanding, especially in their first few months.)
However, my primary beef with the process is that the two teams are chosen at different times. While waiting later would make it more likely to get "hot" players with the Captain's Choices, it bothers more that the Euro team sets their automatic picks a full three weeks after the US team. I think both teams should be set at the same time. It's not like they need to coordinate 88 countries like the Sochi Olympics did!
In short, as long as both sides choose their teams at the same time, I'm okay with the current timing.
Tiger's press conference for the newly-renamed Hero World Challenge (Hero Motocorp in India being the new sponsor) drew a lot of attention when Tiger mentioned that he hadn't swung a golf club since the PGA and didn't plan to before the end of this month or early October, and also that he wasn't even thinking about a new teacher yet. I think this shows that Tiger is starting to realize that he needs to approach the rest of his career as a human being rather than a superhero, and I also think that gives him the best chance of returning to form quickly. He certainly seemed in good spirits, which can't hurt his chances.
Hmmm, did I miss anything? Oh yes, I did want to comment on how well Michelle Wie played in order to win the Rolex Annika Major Award despite being injured. Inbee Park played in all 5 events (38, T43, 4th, 1st, T10 for 76 points) versus Michelle effectively playing only 2 events (2nd, 1st, MC, DNP, WD for 84 points) and yet Michelle still beat her by 8 points. (
You can read the LPGA wrap-up here.
) In case you wonder where the point totals come from, they're the same points awarded for the Rolex POY award. I hope it doesn't take Michelle too long to get back in form when she finally heals up.
Finally, this week finally saw a shake-up in my Ruthless Golf World Rankings (the RGWR in the sidebar) and I wanted to explain why it now looks the way it does. The Top3 are the year's major winners--Rory with 2 majors and some other events worldwide, Martin with 1 major and the TPC (as strong a field), and Bubba with the Masters and one other win (plus his play picked up during the Playoffs). Those three should be pretty obvious choices.
Then comes Billy Horschel with that torrid 3-event streak at the end of the season (the Tour Championship and one other event, plus a 2nd, is better than what most of the other players have done in the last few months), and finally Adam Scott. Adam had that run of Australian majors late last year, a win at Colonial, and he was OWGR #1 for 4 weeks in May and has been #2 the rest of the time since the 2013 Barclays. But while he's been playing well, he's just not winning as much as I expected.
I think that covers everything.