Winner:
Henrik Stenson
Around the wider world of golf: Lydia Ko won the Marathon Classic on the LPGA; Aaron Baddeley won the Barbasol Championship, the alternate field event on the PGA Tour; Martin Flores won the Lincoln Land Charity Championship on the Web.com Tour; Taylor Moore won the Staal Foundation Open on the MACKENZIE TOUR - PGA TOUR Canada; Clariss Guce won the Danielle Downey Credit Union Classic on the Symetra Tour; and Mi-Jeong Jeon won the Samantha Thavasa Girls Collection Golf Tournament on the JLPGA (bangkokbobby has details).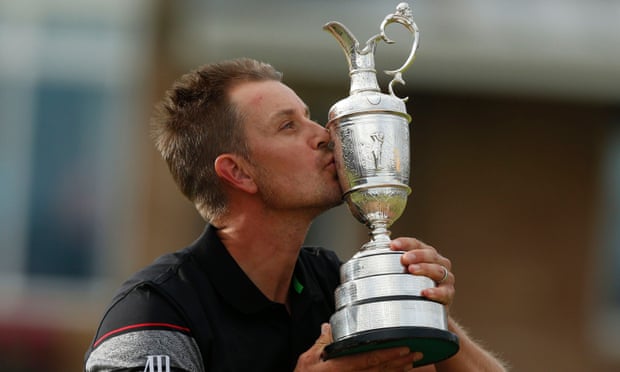 You'll have to forgive the pun, folks, but…
How Swede it is!
This was a tough one for me to watch because I wanted both players to win. I've been a fan of both for a long time. Both Phil and Henrik would make history; both were playing at an absolutely insane level. You know the numbers, I'm sure; they were quoted enough afterward. But they prove that the comparisons with the Nicklaus/Watson "Duel in the Sun" are certainly appropriate.
I mean, really. Mickelson's -17 would have won 141 of the 145 Opens that have been played, and he set the record for the largest gap between 2nd and 3rd place (11 strokes) while still losing by three strokes. Stenson tied the record for birdies made in a single round (10), the lowest final round score to win a major (63), and the record for lowest major score to par (-20); and he set a new record for aggregate score (264).
These sorts of numbers are rarely seen in a generation, let alone in a single championship. So I'm not going to do any kind of tournament summary. There's no need. They'll be showing replays of the 145th Open for decades to come!
So Henrik Stenson becomes the first-ever male major winner from Sweden. He does so in historic fashion, effectively slapping down all his critics who said he was too timid and unable to close out when he had the chance.
And in the meantime, Henrik and Company will be toasting his victory with a tasty beverage -- served from the Claret Jug, of course -- while enjoying his latest Limerick Summary.
We saw two men who just wouldn't crumble.
Alone, Stenson and Mickelson rumbled
Neck-and-neck at the top.
When the final putt dropped
It was Henrik who couldn't be humbled.
The photo came from this post at theguardian.com.