Winner:
Sergio Garcia
Around the wider world of golf: Hyemin Kim got her first win at the POC Med Golf Classic on the Symetra Tour. Everybody else was watching the Masters!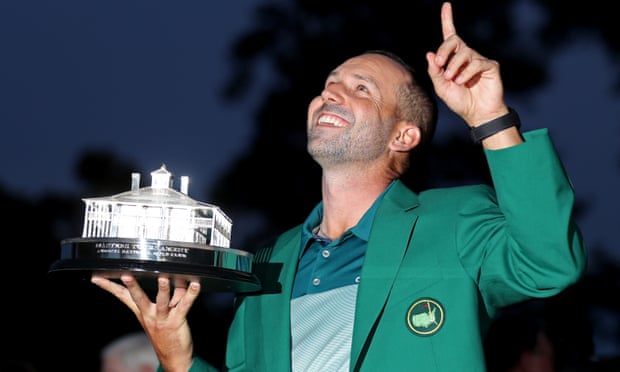 The crowds were chanting his name. He was doubled over with joy, crouched down, fists clenched... and beside the 18th green, his fiance Angela mirrored his body language.
To me, that will probably be the lasting memory of this Masters. That, and Sergio and Angela walking off together, arm-in-arm, to Butler Cabin.
Yes, the seemingly impossible finally happened. Sergio Garcia finally got a major -- the one that he probably wanted most, since it's the one his two idols (Seve and Jose Maria) share -- and words just seem inadequate to describe it. In one afternoon Sergio gave his fans everything they ever wanted, and did it with all the drama and exuberance they could have asked for.
I'm not going into any great detail summing it up, for the simple reason that if you didn't see it, you'll see all the highlights at some time or another in the next few weeks. Let me just make one observation.
Sergio Garcia has, like Dustin Johnson, grown up and found out who he is. He spoke in his presser about having done stupid things before, having let his emotions get the better of him, and having accepted the help and love of those who care for him most. He spoke of encouraging notes stuck to the bathroom mirror by Angela. He spoke of friends who never gave up on him. He smiled a whole lot.
And, oh yes, he went to a playoff and played just one hole. Perfectly. Just the way we knew he could. Piped the drive, flagged the iron, and made the longish birdie putt to end everybody's doubts.
I don't know if this will "open the floodgates," as they say. But if this win does for Sergio what the US Open win did for Dustin, we may be in for another seismic upheaval in the Tour's competition.
In the meantime, perhaps Angela will stick this Limerick Summary on the bathroom mirror for Sergio, along with her love notes. This one has certainly been a long time coming and boy, are we glad it's here!
That fun-loving, high-jumping teen
Has long been away from the scene
Of professional golf…
But now Sergio's off
To a land where his dream's everGreen.
The photo came from this page at theguardian.com.