Winner:
USA, 19-11
Around the wider world of golf: Brooke Henderson won the McKayson New Zealand Women's Open on the LPGA; Azahara Munoz won the Andalucia Costa del Sol Open de España Femenino on the LET; Paul Dunne won his first ET event at the British Masters; Satoshi Kodaira won the TOP Cup Tokai Classic on the Japan Golf Tour; and Gavin Green won his first Asian Tour title at the Mercuries Taiwan Masters. Events on both the Symetra Tour and the Web.com Tour have been delayed and will finish sometime today.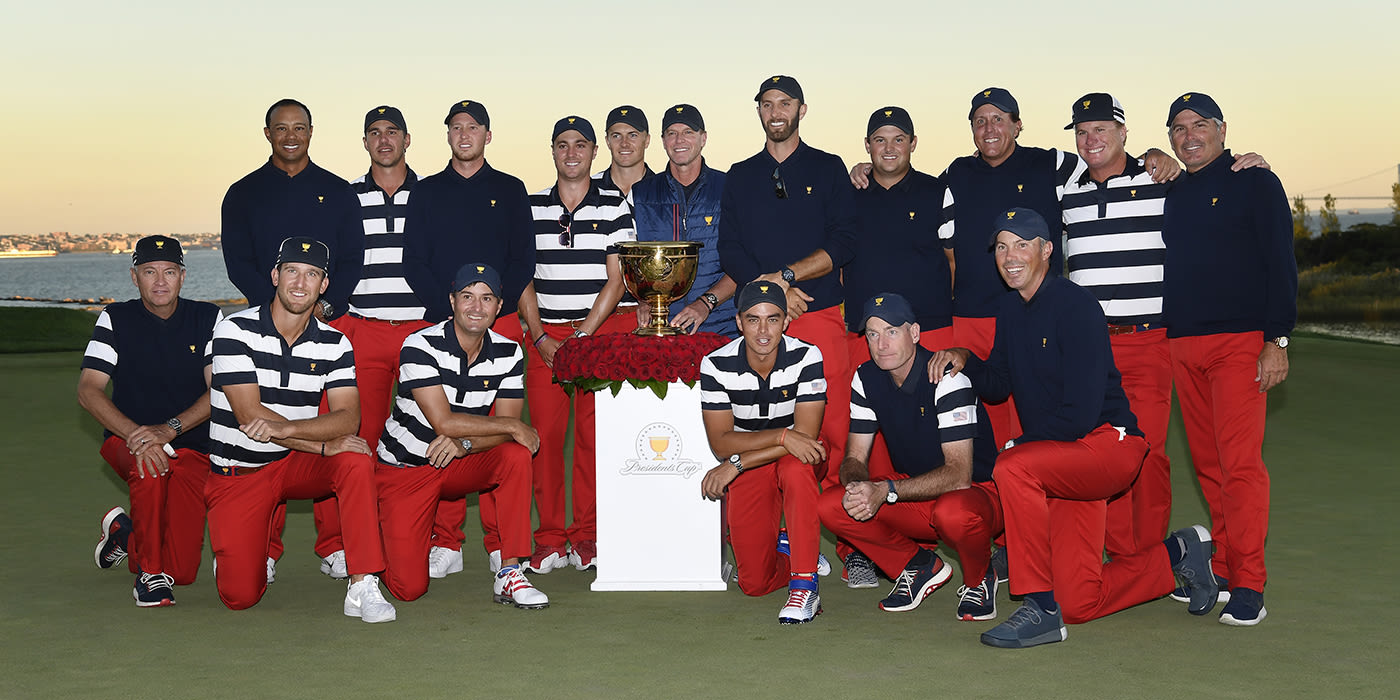 I may decide to do a post on this Presidents Cup later in the week -- I think there are some things to be learned from it -- but today I'll limit myself to a couple of observations.
First, this is the first team competition I can remember where one of the teams was both on form AND healthy. I think this has as much to do with the US Team's juggernaut performance as anything. It's easy to forget that the International Team has been plagued by problems this season, everything from Jason Day dealing with his mother's cancer to Si Woo Kim's back problems to Hideki Matsuyama's broken driver, which I think may have been partially responsible for his remark about his timing being off. (Try to adjust for one club, it will affect all the others. Trust me on this.)
And second, the International Team's performance in singles makes me believe the ultimate problem they face at this point is their lack of team play experience. The weekly Mickelson money games have clearly had an effect on the US Team's ability to get out of their own way and just play good golf. We saw a lot fewer strategic mistakes from them this time around, while the International team made numerous plays during the team sessions that they didn't make during the singles. In other words, the Internationals are basically where the US was a decade ago. They'll figure that out soon enough.
Therefore, while the US Team gets the Limerick Summary this week, the Internationals get some "rhyme time" as well. After all, their play on Sunday was a step above their normal singles performance and a clear indication that they're making progress.
Though by Sunday there wasn't much doubt
That the US would win in a rout,
Nick Price's fine team
Found one last head of steam
Just to prove they were down but not out.
The photo came from this page at presidentscup.com.