Winner:
Patton Kizzire
Around the wider world of golf: Shanshan Feng became World #1 with her win at the Blue Bay LPGA; Camille Chevalier won the Hero Women's Indian Open on the LET; Branden Grace won the Nedbank Golf Challenge on the ET; Kevin Sutherland got his first Champions Tour win at the Charles Schwab Tour Championship -- which, btw, also gave him the Schwab Cup; Julian Etulain won the NEC Argentina Classic on the PGA TOUR Latinoamérica; Satoshi Kodaira won the Mitsui Sumitomo VISA Taiheiyo Masters on the Japan Golf Tour; and Micah Lauren Shin (from the US!) won the Resorts World Manila Masters for his first Asian Tour win. And if I've read the translations correctly, Ji Han Sol won the ADT CAPS Championship on the KLPGA and Mami Fukuda won the Itoen Ladies Golf Tournament on the JLPGA.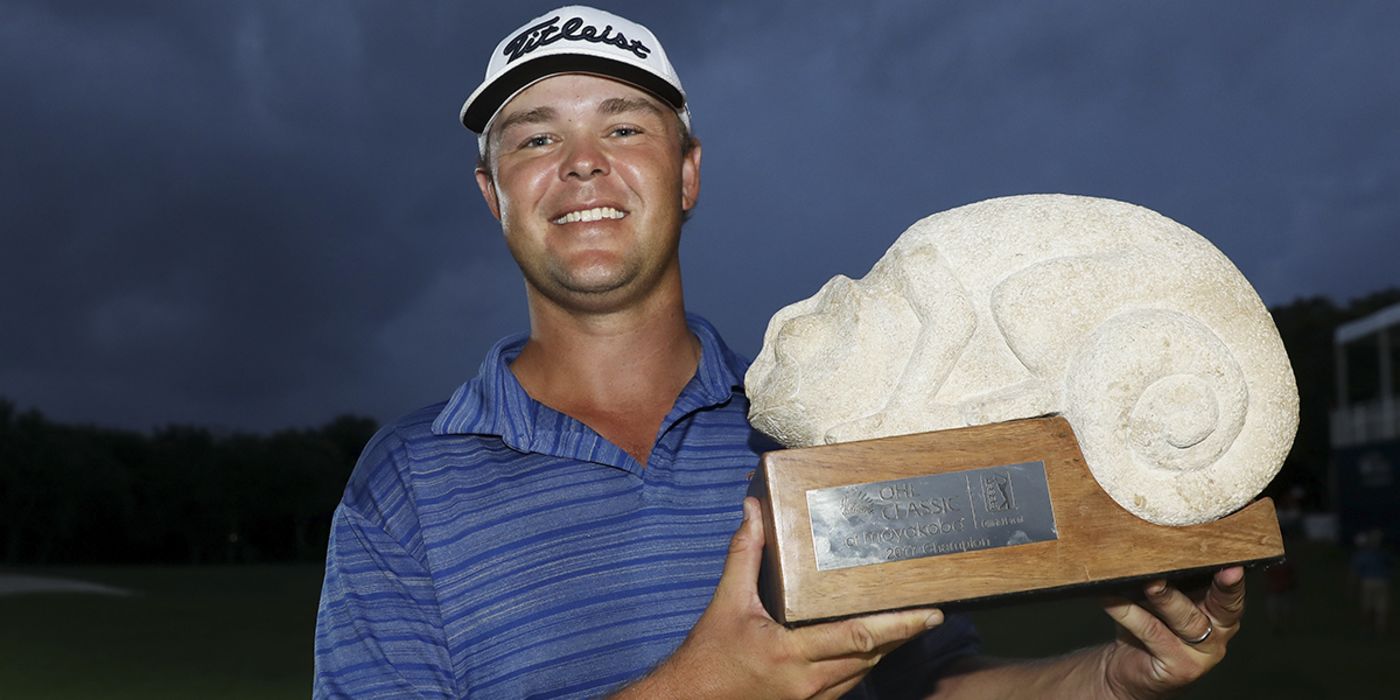 You would think we'd learn by now. Just because you play lights-out for the first two or three round doesn't mean you can keep it up for the rest of the week. Especially when you have to play 36 holes in one day, dodging bad weather when your game is showing a bit of rust. That's basically what happened to Rickie Fowler this weekend.
Of course, it probably wouldn't have mattered if Patton Kizzire hadn't come ready to play. It looked like the pressure was affecting him a little, but he's been learning how to deal with it for a while now.
Yeah, Patton came ready to play.
Did he do anything spectacular? Well, nothing more than Rickie did at times. Let's face it -- the young guns all have the game to burn you when they're firing on all cylinders. However, Patton did it well enough to keep Rickie at bay on the final nine. And we'll be talking about his scramble from that awkward lie beside the fairway bunker on 18 for weeks!
When you're trying to get your first Tour win, "well enough" is a huge accomplishment.
Every player has his (or her) own path to the winner's circle. No matter how good they are when they come out on Tour, that path can't be predicted by anyone. And just because Patton finally got his first win, that doesn't mean "the floodgates will open" for him.
But I wouldn't want to be the guy who bets against him.
Congrats, Patton, and here's what may be the first of many Limerick Summaries. You earned it!
Rickie turned out to be a bit rusty;
He left too much work for his trusty
Old putter to do.
So Patton broke through
For his first win. His play was quite gutsy!
The photo came from the tournament page at PGATOUR.com.