It's too soon to say Tiger is "back." But it's not too soon to question how we'll know he has truly returned. Today I'd like to look at a few things that can serve as indicators of Tiger's progress.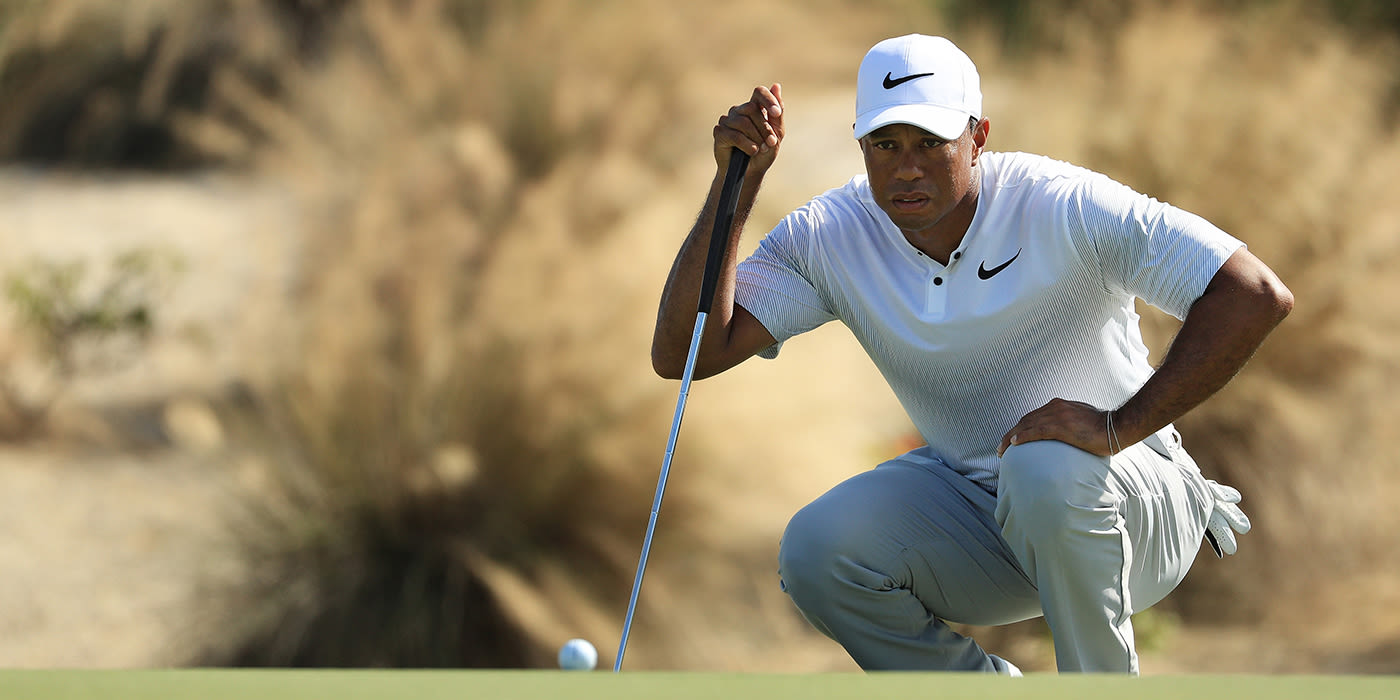 The first indicator is simply whether Tiger is painfree or not.
We should divide this into two questions -- is he painfree now, and will he remain painfree? The answer to the first one is clearly YES. We know that Tiger played nine straight days of golf before teeing it up in the Bahamas, and he's no worse for wear. That's important because you can't
stay
painfree until you
get
painfree.
But one week won't answer that second question. Tiger has rarely played more than 15-18 tournaments a year, so I'm arbitrarily setting my sights on 8-10 events. That should be six months or so; if he's still good then, I think he passes this first test.
The second indicator is how consistently well he plays.
I include mental improvement as well as mechanical improvement. We should expect some rust, no more than he's played in the last couple of years. And dealing with how his body handles adrenaline now, plus his ability to adjust quickly to conditions, should both be taken into account here.
Two rounds isn't a huge sample, but Tiger seems to be playing with very little rust. (THAT should certainly give the rest of the golf world some pause, given he's only had a month or so to practice.) In addition, he made some sound adjustments to his game on Friday, based on what he did Thursday, and most of those adjustments worked. Some were mechanical, many were strategic. So I'd also give him credit for this indicator -- at least this far into his comeback.
Third indicator -- how is he mentally on the weekend?
Granted, he hasn't played the weekend yet -- but I don't think we'll be able to answer this one very soon, even if he wins this weekend. Even when Tiger played so well back in 2013, it was clear that his play on a majors weekend was not as good as it was at a regular event. This one could take a year or so before we have the answer.
However, if he can close out
any
tournaments over the next few months, that will certainly be a positive sign. Again, you have to be able to close out a regular tournament before you can count on closing out a big tourney.
Fourth indicator -- how well does he travel?
To be honest, I hope he doesn't test this one until he has a few events under his belt. He was already struggling a bit before his trip to Dubai did him in back in February; I'd like to see him successfully complete a few events over the next few months before trying any long flights.
Finally, can he keep his own expectations in check?
I really like his attitude right now. Some of the analysts have suggested that Tiger is sandbagging a bit, that he knows his game is better than he lets on.
But look, the hype is already in motion -- Tiger has gone from a 100-1 favorite at the Masters to a mere 15-1. Expectations for Tiger are always at two extremes. Either fans think he'll just instantly return to top form or -- as Frank Nobilo confessed -- he didn't really want Tiger to come back because he thought he wouldn't be able to play well and he didn't want to see the Big Cat as just a ceremonial golfer. Very few of us allow Tiger to just be human and give him the same freedom to fail that we want others to give us. After all, none of us is perfect!
I find it refreshing that Tiger has (perhaps) come to grips with his own mortality. I think that will stand him in good stead going forward.
So while the Masters odds are clearly examples of jumping the gun, the signs that Tiger will once again be a force on the PGA Tour are encouraging. And while I don't expect him to win this weekend, I do think the young bulls who idolized Tiger and wanted to compete against "the legend" should be thinking twice about what they asked for.
I know I plan to keep watching because I think they may live to regret that wish!