Winner:
Patton Kizzire
Around the wider world of golf: The European team put on a furious rally in singles to win the Eurasia Cup 14-10; Chris Paisley won the BMW South African Open for his first ET victory; Mardy Fish and Scott Parel won the celebrity and pro divisions (respectively) at the Diamond Resorts Invitational on the Champions Tour; and the Web.com Tour event in the Bahamas won't finish until Tuesday.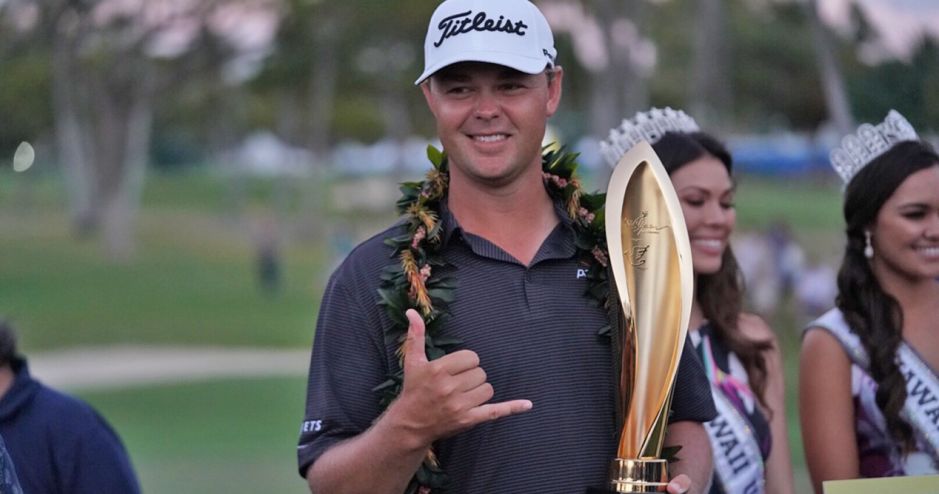 It was the longest playoff in Sony Open history. Six extra holes became the battleground for two men who simply couldn't separate themselves from each other.
The first was James Hahn, who shot a career best 62 in the final round to set the clubhouse lead at -17. Hahn has won twice before, both in playoffs, but it's been nearly two years.
The other was Patton Kizzire, who has already won once in this wraparound season -- at the OHL Classic in Mexico. The best he could do in regulation was 68, just enough to tie Hahn (who had been waiting in the clubhouse for a while).
From that point on, however, neither man could shake free from the other. They matched scores hole-for-hole, each making a heroic effort just to continue the playoff. Par, birdie, par, birdie, par... and then they reached the sixth playoff hole, the par-3 17th. Kizzire's iron shot crept off the back of the green; Hahn left himself a tricky shot nearly twice as long... and his putt from off the green came up short.
Then his putter finally let him down. He posted bogey. Kizzire two-putted for par and the win.
Patton Kizzire becomes the first multiple winner of the 2017-18 season. That also makes him the first multiple Limerick Summary winner of the wraparound season. Who will be next?
It took six extra holes for Kizzire
Because Hahn played his last round on fire!
Neither man could break free
From the other, you see,
Till Kizzire's par won him his desire.
The photo came from this page at PGATOUR.com.