I hope you all got to watch Pernilla Lindberg and Inbee Park's final four holes on Monday morning. It was pretty impressive, especially as Pernilla continued to make critical putt after critical putt, finally sinking a long one at the 10th hole (playoff hole #8). Inbee finally flinched, giving Pernilla the win.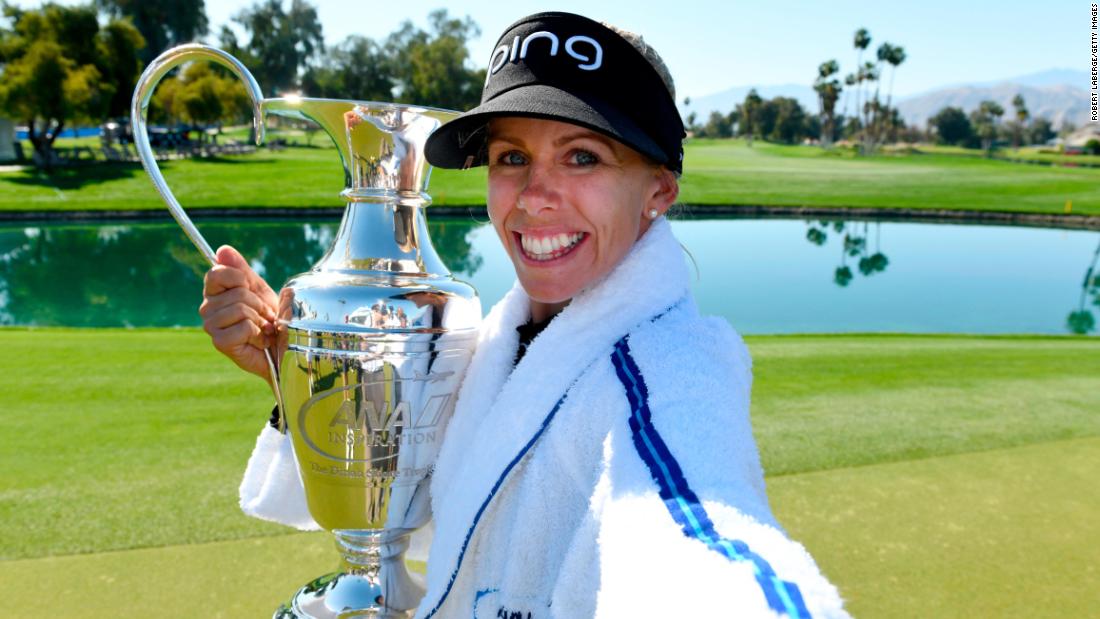 Her caddy, who also happens to be her fiance Daniel Taylor, was also pretty impressive as he dove headfirst into Poppie's Pond.
Anyway, I thought I'd take a quick look at some things we can learn from Pernilla. First, a look at her pre-shot routine.
Those of you who follow my blog regularly probably know that I'm not a big fan of pre-shot routines -- I think they have become an excuse to avoid hitting your shot. Pernilla's is different though. She seems to use her routine almost purely to get her alignment correct.
I looked all over for a video of her current routine and couldn't find one. This video from 2014 is a little different but it's the best I could do, and you really only see her routine twice -- once at the beginning of the video and once at the end. Still, you can see that she sets her ball position, then spreads her feet, lifts her club and bumps her lead hip toward the target, then addresses the ball and makes her swing.
Her current "club lift and hip bump" is a bit more formal, and she uses a couple more club lifts instead of a waggle, but this is essentially the same that she did before each wood and hybrid shot all week. (She doesn't bump her hip on the irons, probably because she's more concerned with accuracy than distance when hitting those clubs.)
You can also learn from her strategy. She (and Inbee too, for that matter) played each hole almost the same each time through, both in the regular tournament and in the playoff. The only variation I recall happened on the 7th playoff hole Monday morning -- that's the par-5 18th -- where Pernilla got her drive close enough to go for the green in two. She didn't get close enough for a realistic chance for eagle, but she did put the ball safely on the green and walked away with a two-putt birdie.
In other words, she played smart. She played to her strengths and, when she did play an aggressive shot, she missed it in the correct spot so she kept herself in the game.
Finally, her mindset was amazing. Pernilla said she figured out early on that she was the underdog, so she figured she had nothing to lose. She took this as both an opportunity and an honor. She decided to enjoy her chance and just kept grinding. Terry and Judy said it on Monday morning -- even if Pernilla didn't win, she had proven herself and won so much respect that her future in the game would be different anyway!
And when Inbee missed the putt that would have sent the playoff to a 9th hole, Pernilla was visibly shocked. She said afterward that she just assumed Inbee would make the putt, and she was already planning her tee shot for the next hole.
When Inbee missed, Pernilla Lindberg pulled off one of the biggest upsets in recent golf history. And now you know some of the reasons why she did.
Let me add just one more thought on Pernilla's amazing mindset. While most viewers will believe it came from nowhere, it didn't. No doubt many of you will have heard that you "need to pay your dues" before you can earn a win like this. Perhaps that's true.
But "dues" don't have to be "paid" in the same place where they are collected, if you follow what I'm saying.
Business people recognize what they call "transferable skills," which simply means that many seemingly unrelated professions use similar skills. A mother who manages a household with a husband and three kids, planning all the meals and coordinating all the schedules, may turn out to be a skilled office manager. The skills needed for both are essentially the same.
In much the same way, "dues paid" in one area of life can be applied in other areas as well. After all, patience and persistence and the ability to handle pressure are necessary skills in many areas of life, not just golf And once you add Pernilla's considerable experience as a college golfer -- plus her time as a competitive downhill skier, which many folks don't remember -- she's been in some pretty big arenas before, places where those dues would have been paid.
So remember that when you think you can't handle things out on the golf course. You may have more usable experience to draw on than you realize.
The only difference between Pernilla and you is that she
knew
she had paid her dues.