Time for the Champions Tour players to get in on the act. This week they tee it up at the Regions Tradition, their first major of the year.
And you know what that means...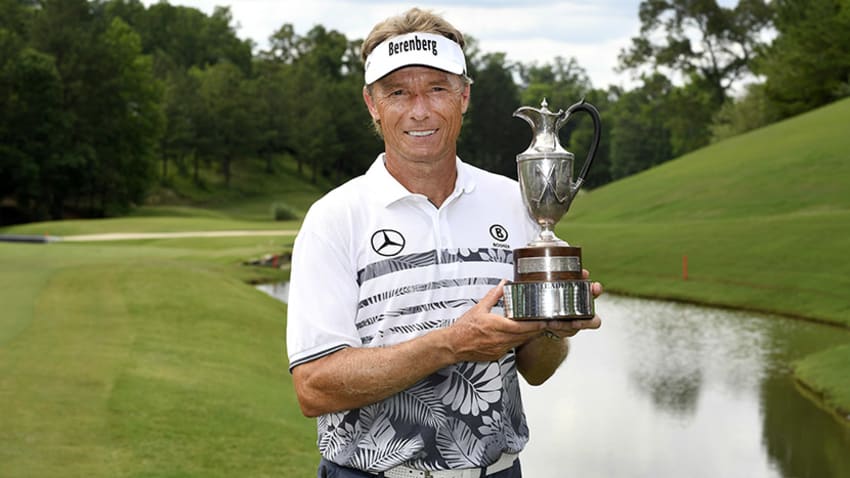 Yep, it's "5 to Watch" time. Time for me to demonstrate why Monday's Supreme Court ruling, which makes gambling legal in any state that wants it, doesn't help me one bit.
Of course, if there's a sure thing on any tour, you could argue that it exists on the Champions Tour...
And his name is Bernhard Langer. Last year he passed Jack's record of eight Champions majors. This week he goes for major number ELEVEN and he does it as the two-time defending champion at this event, as well as being the tour's most recent winner this season. It's hard not to consider him a favorite.
Then there's Steve Stricker. It took him a while to find his "old guy legs" but this season he's already got two wins. That's not particularly amazing... but the fact that he's done it in only four starts is! Add in his great play last week at THE PLAYERS and you have to consider him a favorite this week as well.
Stricker's buddy Jerry Kelly is no slouch either. True, he has only one win in eight starts this season but that's good enough to put him at #3 in the Schwab Cup standings. (Langer's #1 and Stricker #2, in case you're curious.) In addition to the win, he's got three Top8 finishes, is third in the All-Around stat and fourth in Scoring Average. Sounds like a winner to me!
I know it seems as if I'm just running down the Schwab Cup points list, but Joe Durant (#4) also has a win this season, is #3 in Scoring Average and is coming off five straight Top10 finishes. It's hard to ignore him this week either.
But now I need to pick a flier, someone who might not come to mind at first, and after some consideration I'm picking Steve Flesch. Flesch is coming off his first win, followed by a T5 at the Legends of Golf team event. The rest of the year has been less than impressive. (Forgive my bluntness, Steve.) So the question is, has the leftie turned a corner or have the last two events just been blips on the radar? We'll find out this week.
And my pick? Langer is the obvious choice, but I'm going with
Stricker
to get his first major. He seems to have found a comfortable state of mind from which to play, and that good showing at Sawgrass last week should stand him in good stead at the Greystone Founders course -- a course which also demands strategic play.
Of course, Langer will probably spoil my party, but I'm used to that. Go, Stricks!!!