Because it has changed our view of Dustin Johnson. Let's take a look at the first two days of the US Open.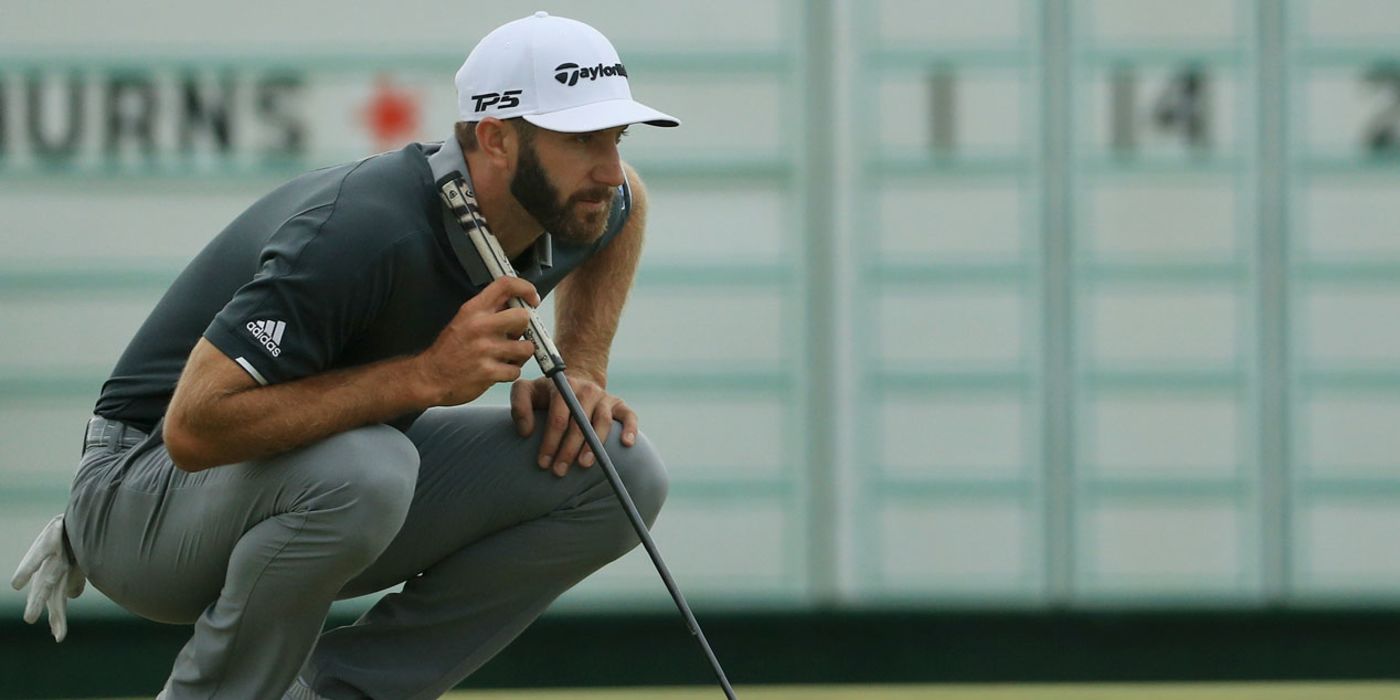 Shinnecock Hills is an old soul among golf courses, in many ways the American equivalent of St. Andrews. It's not just its age, being the second-oldest course in the US (1891; the oldest is
Exeter Country Club in New Hampshire
, 1889), but the fact that it is still able to host a modern major without any of the shortcomings other older courses have -- it can handle the modern infrastructure of the PGA Tour while still holding its own against the power hitters -- makes it and St. Andrews kindred spirits.
So why has the weather changed our view of DJ? The weather has refused to follow the weather bureau's dictates -- not just because it gave us unexpected rain on Wednesday and Thursday but,
as Jim Furyk put it on Friday
:
When we were getting up this morning there was a zero percent chance of rain. I think when we got here I heard someone say it jumped to 15 percent. And then it rained for two hours.
Instead of dry and sunny, Friday started off rainy and gray -- and DJ played in the worst part of the draw both days, in Thursday's wind and Friday's cold rain. And yet -- AND YET -- DJ calmly shot 69-67 in the worst of it while many big names missed the cut playing the best side of the draw.
This isn't what was expected of DJ. I picked him to win in
my "5 to Watch" post
, but even I wouldn't have predicted this. DJ's domination to this point, in the week following a dominating win, wouldn't be expected of any player. (Bear in mind that no one has ever won a US Open after winning the week before... not even Tiger.)
Speaking of my "5 to Watch," I appear to have done much better than normal this week, despite not knowing how the USGA would set up Shinnecock.
Dustin Johnson has, of course, a four-stroke lead at -4.
Justin Rose is T4 at -1.
Brooks Koepka is also T4 at -1.
Phil is back in the pack, T35 at +6. But after hitting 26 of 28 fairways, it's hard to believe he could be that far back!
And while at +10 Tiger didn't make the cut, I made him my flier pick because I didn't know if his entire game would show up. It's worth noting that he was +7 on just holes 1 and 2, so
I'd have to agree with Justin Thomas
:
He [Tiger] definitely didn't have it, but, really, he didn't play that poorly.
A lot of the top players didn't fare any better than Tiger -- Jordan Spieth and Rory McIlroy come to mind -- so it's hard to disagree with Thomas.
However, that's all water under the bridge. Now we head into the weekend, and the weather -- if the predictions are finally correct -- should be very good and we should see some lower scores. But the tall lanky figure of Dustin Johnson is casting a huge shadow across this major, and the field is going to need some help if they want to catch him.
Will DJ stumble at some point this weekend? Probably.
Will any of the players be able to mount a charge? Again, probably. There are ten players between even and +2, and DJ's four-stroke lead could vanish with one bad shot. Doubles, triples and worse have been quite common at Shinnecock this week.
But my money's still on Dustin. Unless somebody waxes the steps where he's staying this weekend, I wouldn't bet on him slipping up this time.