Winner:
Kevin Na
Around the wider world of golf: Sei Young Kim crushed the LPGA's all-time tournament scoring record (which she and Annika held) with a -31 at the Thornberry Creek LPGA Classic; Russell Knox sank the same 40-foot birdie putt TWICE to win the Dubai Duty Free Irish Open on the ET; Nelson Ledesma won the LECOM Health Challenge on the Web.com Tour; Mark Anguiano won the Windsor Championship on the MacKenzie Tour - PGA TOUR Canada; Brad Kennedy won the Shigeo Nagashima Invitational SEGA SAMMY Cup on the Japan Golf Tour; John Catlin won the Sarawak Championship on the Asian Tour; and the US Team successfully defended their title at the Palmer Cup.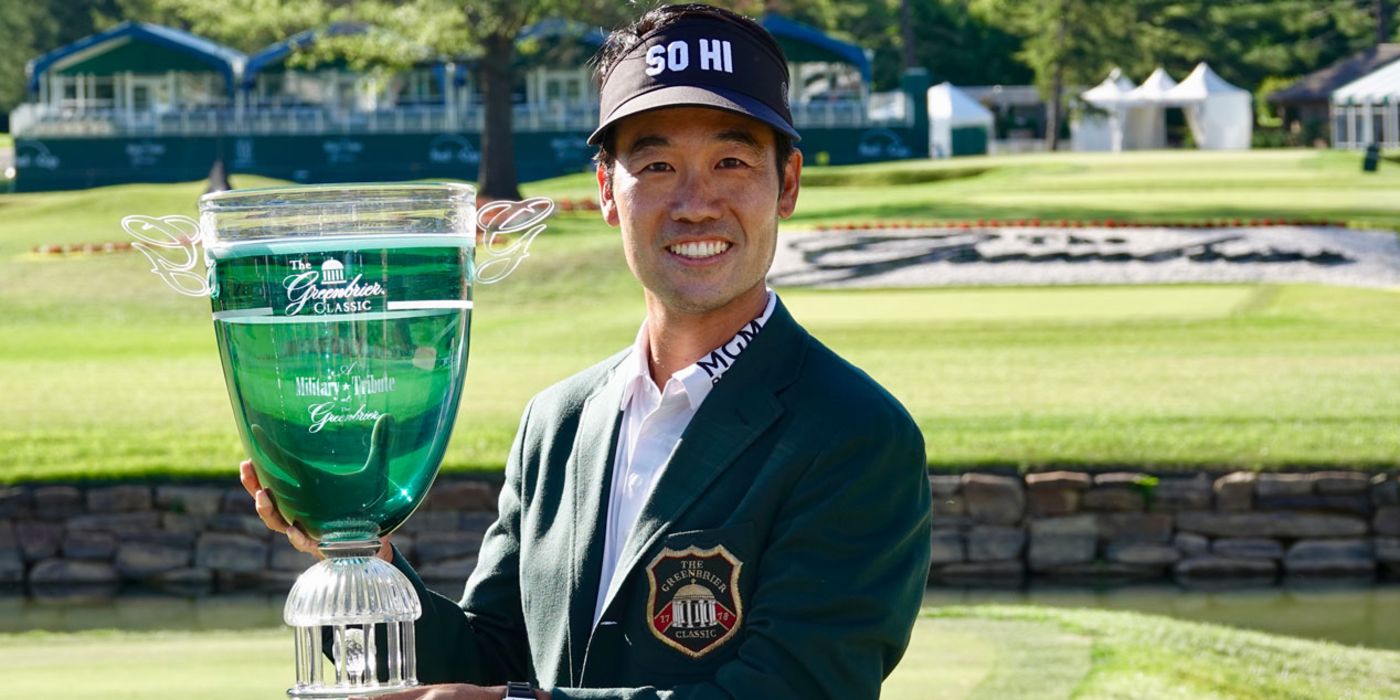 Okay, first of all: I know the tournament is now officially called
A Military Tribute at The Greenbrier
. But that was just too long for the blog title.
And second, I don't care how silly it sounds, it seems like I've been waiting forever to post this:
Yes, I think it's appropriate. On a Sunday when all kinds of records were set by players going crazy with their putters, Kevin Na sank over 142 feet of putts -- double the Tour average for a round -- to pick up his second PGA Tour win. This song has become a legendary sports celebration song, and if anybody deserves this particular song, it's Kevin.
I can't help myself. I absolutely
love
Kevin Na. He's dealt with any number of technical problems and come out on top. When he's gone through a particularly bad stretch -- remember when he set the PGA Tour record for high score on a single hole (16)? -- he's had a sense of humor about it. (He not only talked about it after the round, but let GC film his revenge with a chainsaw.) And he's given us more good-natured entertainment (like the recent exchange between him and his longtime caddie) than most players.
It makes me feel good to see him pick up his second win. It was emotional for him, as you know if you saw his interview with Amanda Balionis right after he won -- and coming right after the news that he'd made the Open this year, it just seemed like life was
fair
this weekend.
I won't go on about it. Just play the video, dance around a bit, and know that Kevin will probably hear it quite a bit this week as he and his friends celebrate. As for me... well, the video even made itself felt in his Limerick Summary. Way to go, Kevin!
For seven years Kevin asked "Why?"
But Sunday his spirits were high!
He started one back
But then broke from the pack
And with 64, kissed 'em goodbye.
The photo came from this page at pgatour.com.