Winner:
Francesco Molinari
Around the wider world of golf: David Toms got his first Champions Tour major at the US Senior Open; Sung Hyun Park got her second LPGA major at the KPMG Women's PGA Championship; Muni He won the Prasco Charity Championship on the Symetra Tour; Anders Albertson won the Lincoln Land Championship on the Web.com Tour; Alex Noren won the HNA Open de France on the ET; Chan Kim defended his title at the Shigeo Nagashima Invitational SEGA SAMMY Cup on the Japan Golf Tour; and Jazz Janewattananond won the Queen's Cup on the Asian Tour.
[UPDATE:
I forgot to add Leonie Harm's win at the Ladies' British Amateur. Can't forget that!
]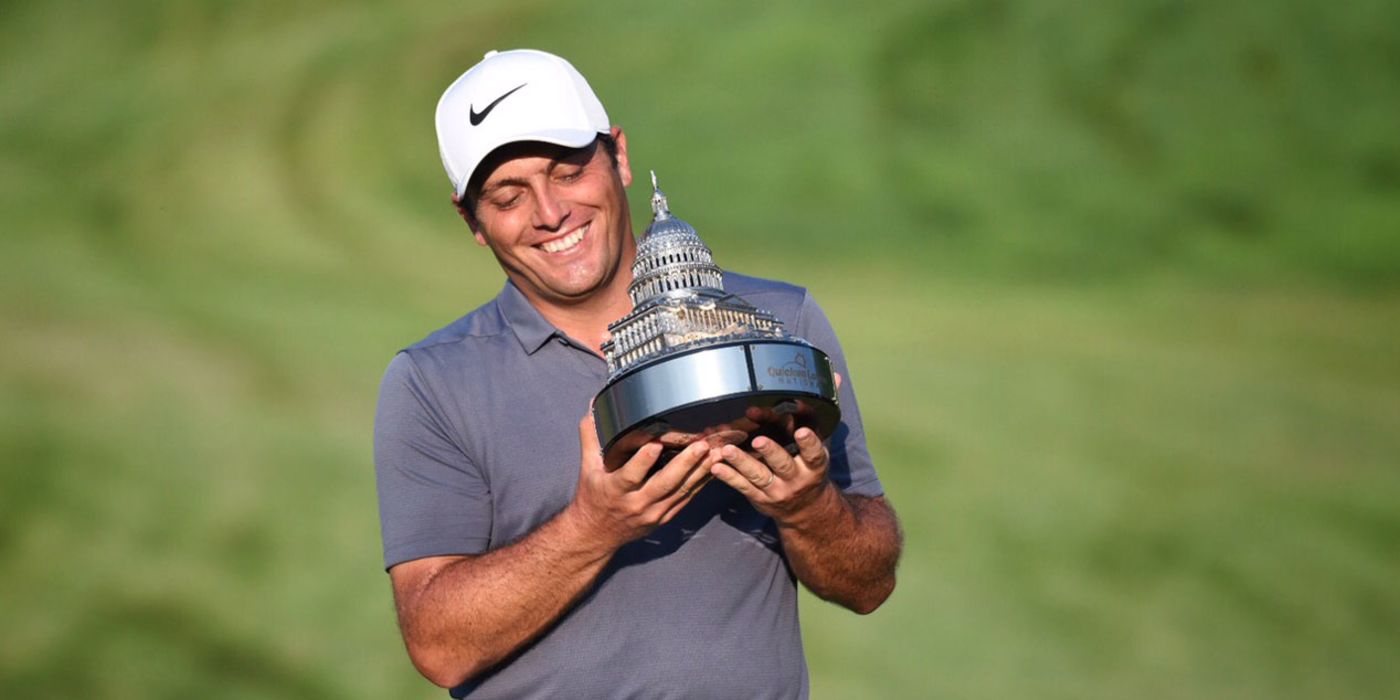 If you were unfamiliar with Francesco Molinari before this past week... well, you better get real familiar, real fast.
I remember being very impressed with Francesco the first time I saw him play, which was back in November 2010. In fact, I was so impressed that I mentioned him in three consecutive posts -- one with a Limerick Summary for his second individual European Tour win at the 2010 WGC-HSBC Champions, a "Player to Watch" mention in a Ruthless Golf World Rankings post, and a look at his golf swing in a post called
Francesco is Italian for "I Piped It Again."
He showed great shotmaking prowess even then.
Francesco's career has been somewhat hit-or-miss over the years though. Interestingly enough, he has tended to win ET events every two to four years -- 2006, 2010, 2012, 2016, and 2018. (He also had two non-ET wins in 2009.) But 2018 has been different, as he has two "big tournament wins" within a month of each other -- the BMW PGA, which is the ET's equivalent of THE PLAYERS, and now the Quicken Loans National, his first PGA Tour win. And both have been dominant wins -- he chased down Rory at the BMW and he won by eight strokes (and set some tournament scoring records along the way) at the Quicken Loans.
To what does he owe this sudden improvement in his play? There are two things. First, he has greatly improved his strength and flexibility, resulting in a much smoother and more powerful swing. Coupled with his already impressive shotmaking ability, that has lifted his game a few notches.
But he's always been a shotmaker. It's his newfound success with the putter that has made the biggest difference. He's always had plenty of birdie opportunities, but now he's taking advantage of them -- and, as a result, of the rest of the field. Poor unfortunate fellows!
Francesco gained a lot this week. He's going to move up in the world rankings; he pretty much locked up a couple of weeks in the FedExCup Playoffs, which he said was the main reason he played in the Quicken Loans rather than the French Open (which is held at the venue for this year's Ryder Cup); and he pretty much locked up a spot on said Ryder Cup team with his play. But we all know what he REALLY cared about... so here's your Limerick Summary, champ.
If Francesco's career has seemed static,
It's because his short game's been erratic.
Now he's putting lights-out—
And he's left us no doubt
That his Ryder Cup team is ecstatic!
The photo came from this page at pgatour.com.