Winner:
Brooks Koepka
Around the wider world of golf: Kristen Gillman beat Jiwon Jeon to add a second US Women's Amateur to her record (the other was in 2014); Trevor Cone won the Web.com Tour's Ellie Mae Classic; Corey Pereira won the ATB Financial Classic on the Mackenzie Tour - PGA TOUR Canada; Lauren Coughlin won the PHC Classic on the Symetra Tour; and Team Sweden3 (Cajsa Persson and Linda Wessberg) won the gold medal in the women's team golf event at Gleneagles PGA Centenary Course on the LET.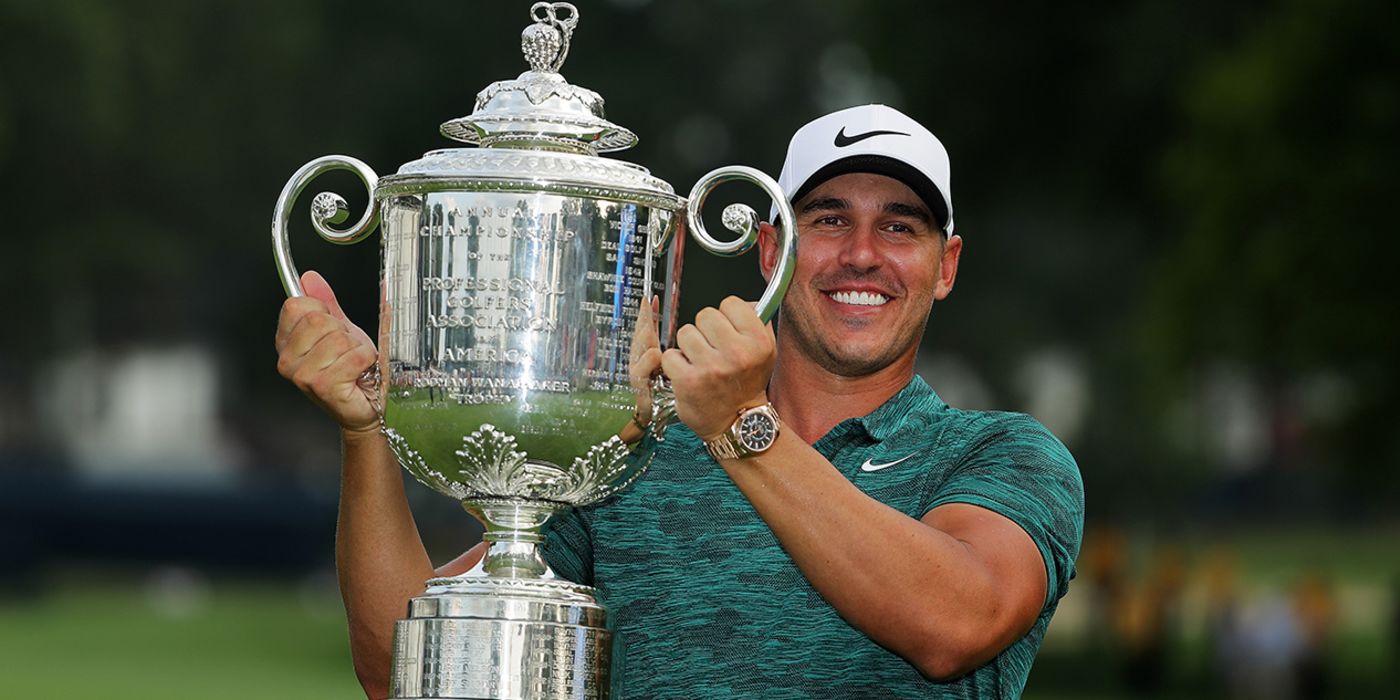 Let's get a couple of things out of the way first, before I forget them.
Teaching pro Ben Kern was the only club pro to make the cut and he finished at T43 (-3), the best finish by a club pro in 13 years. Can't forget the club pros, especially when they play that well!
And both Adam Scott and Tiger, while neither won, should leave Bellerive with a huge confidence boost. Adam proved to himself that he actually can putt. And Tiger actually broke some of his own major records, which says something for how far he's come in less than a year. (Among other records, his 64 was his lowest score
ever
in a major.)
But the star of the show was Brooks Koepka. His performance was amazing, put him into some rare company at the Majors Club, and almost certainly locked up the Player of the Year award. But you'll be hearing about that all this week, maybe all winter until the Masters next April.
Let's talk instead about how this victory likely changes the competitive landscape on the PGA Tour for the next few months.
With three majors under his belt, Brooks has tied Jordan Spieth and lapped his buddy Dustin Johnson. Even Rory is only one ahead of him now! With this victory -- three of his last six majors -- Brooks has established himself as the "it" golfer of 2018. He's the Golden Boy now and, while he won't be #1 on the OWGR after this win (he will ascend to the top of my own Ruthless Golf World Rankings), there's no question that he's the man to beat going forward.
And with the FedExCup Playoffs and Ryder Cup just ahead, 2018 could get even better for him.
So I'll simply add my Limerick Summary to his haul this week. And I'll do it without a lot of fanfare -- that seems to be how Brooks does things lately.
Hey, Jordan and DJ—step back!
Make way as Brooks gives it a whack
And steps into the record books.
Hist'ry belongs to Brooks;
Now HE'S the head of the pack.
The photo came from this page at pgatour.com.