Winner:
Tiger Woods
Around the wider world of golf: Steve Stricker won the Sanford International on the Champions Tour; Anne Van Dam won the Estrella Damm Mediterranean Ladies Open on the LET; Tom Lewis won the Portugal Masters on the ET; Kendall Dye won the Guardian Championship on the Symetra Tour; Denny McCarthy won the Web.com Tour Championship; Marcelo Rozo won the JHSF Brazil Open on the PGA TOUR Latinoamérica; and Yuta Ikeda won the Asia-Pacific Diamond Cup on the Japan Golf Tour.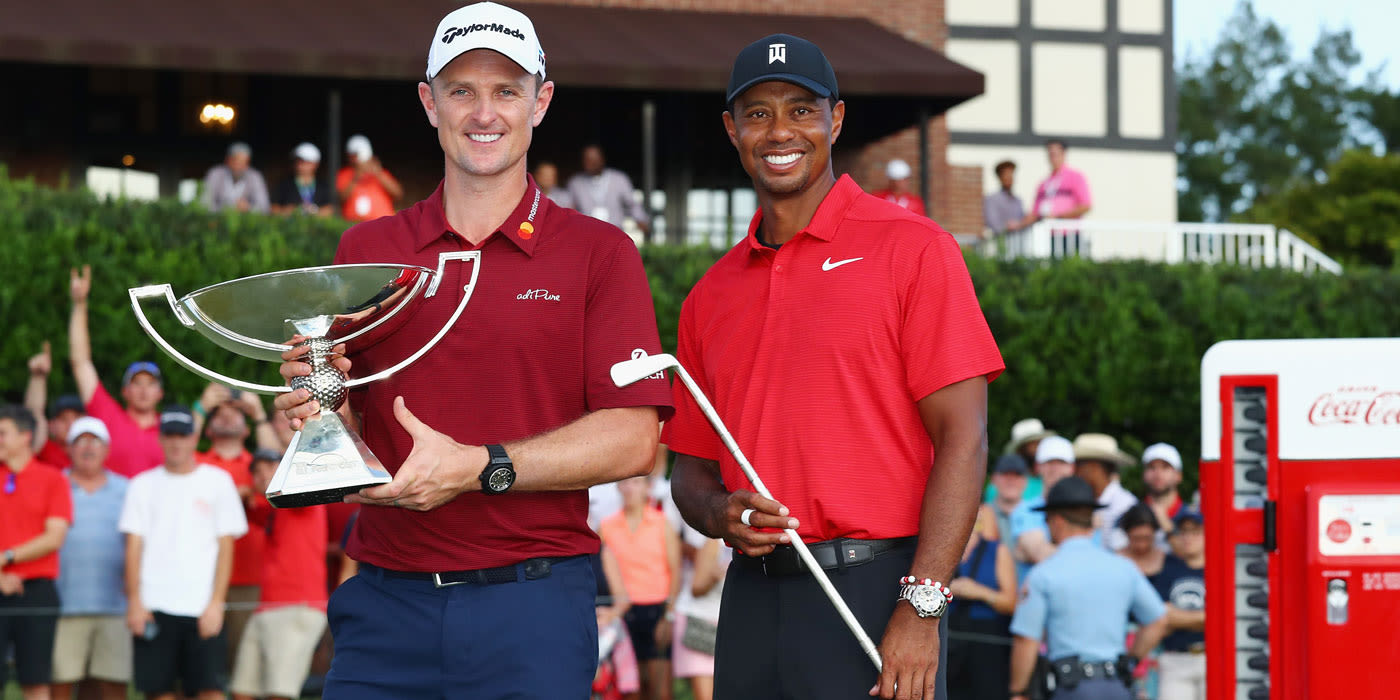 Well, the Big Cat certainly hasn't lost his flair for the dramatic, has he? Had it not been for a birdie by Justin Rose on the final hole, Tiger would have taken it all in the final event of the 2017-18 season.
But somehow I don't think the masses of fans charging down the 18th fairway to watch Tiger hoist his first trophy in five years really cared about that. And based on the tears Tiger himself was fighting back as they gathered, I don't think he cared either.
And perhaps that, in and of itself, is the final proof -- if anybody still needed any -- that Tiger Woods is not the same person he was a decade ago. From the simple raised arms of victory after the tap-in to secure his win, to the many players and fans gathered to greet him as he went to sign his card, to the trophy presentation where he took time to both congratulate and commend Rose's yearlong excellence, followed by more emotions as Justin paid his own respects to what Tiger has done this season -- what more did anyone need to see?
There will be a lot of discussion about Tiger's potential future going forward. He's already the Vegas favorite to win the Masters -- at least it seems a logical choice this time. And the speculation about what he'll do at the Ryder Cup this week will be at a fever pitch when coverage begins today... if it didn't begin already, right after Tiger posed for those photos with the Calamity Jane trophy. (Which, for those of you who somehow missed the history lesson, is a replica of the famous putter Bobby Jones used to make his own history. Or perhaps I should say
putters
, plural, since Jones wore out the first one and had to have a second made.)
At any rate, Tiger's long dark night is over. And I too am truly amazed, for I have to wonder...
how did he ever manage to survive for nearly five years without a new Limerick Summary to grace his trophy case?
It took nearly two thousand days
For Tiger to enter this phase
Of his new lease on life.
Now the drama and strife's
Given way to his fans' roaring praise.
The photo came from this page at pgatour.com.