With most of the Tours taking their annual midseason holiday breaks, we finally get to the unofficial but often very gripping events of the golf year. We kick off with the ISPS Handa Melbourne World Cup of Golf. (Wow, that's a mouthful!)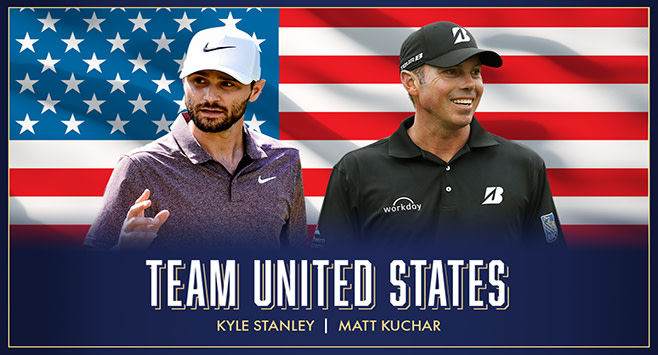 We get teams from 28 countries, all converging on The Metropolitan Golf Club in Melbourne, Australia. This course is one of the Sandbelt courses and has hosted the WGC-Dell Technologies Match Play in 2001, the 2009 Women's Australian Open and all three of the Australian Triple Crown events. This is a class course, folks!
The World Cup of Golf is a 72-hole stroke play event, but rounds 1 and 3 are four-balls while rounds 2 and 4 are foursomes. The course will play 7308 yards, the greens typically stimp at better than 12, and rough weather is predicted -- just what you want for a nerve-wracking team event.
Of course you knew I was going to post a photo of Team USA -- I am a US citizen, of course -- but
pgatour.com's power rankings
don't favor us. We're number four behind Australia, Korea and England. Granted, Marc Leishman and Cameron Smith will be a tough pairing and both are surely familiar with the Sandbelt, so it's hard to argue with them as the favorites. Still, I like the Kuch and Kyle Show to give them a run.
The TV times at GC have me a bit confused. It appears that they're going to alternate between the World Cup and the ET's Hong Kong Open -- a couple of hours of one, then switch to the other, back and forth. At any rate,
they've got the World Cup starting at 8pm ET Wednesday night
, so that should get us started. Golf in Australia is always interesting!