Today we cruise into the California desert for the Desert Classic, the event formerly known as the Bob Hope.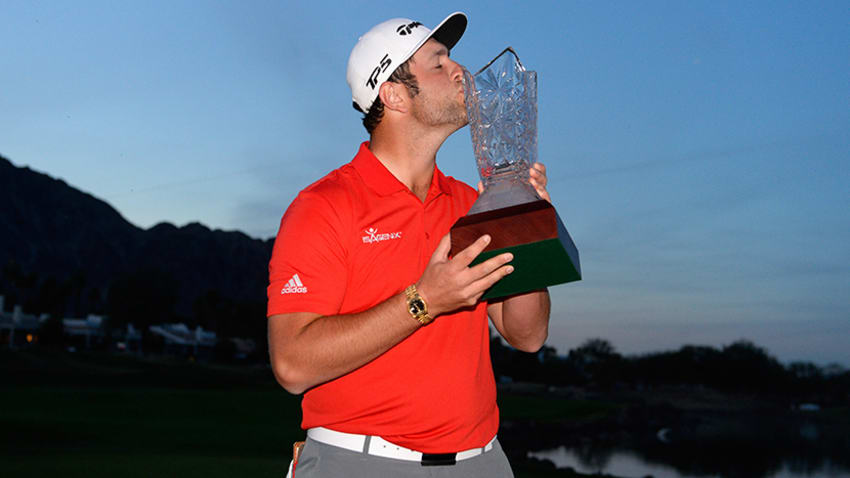 In case you've forgotten, the Desert Classic makes use of three separate courses at PGA West -- the TPC Stadium Course, the Nicklaus Tournament Course and La Quinta Country Club -- which makes it easier for the 156 pros to get around despite the shorter daylight hours this time of year.
The TPC Stadium Course, once nicknamed "Frankenstein" because of how tough it played, is also the site for the final round. Fans of the old Skins Game, which was played every Thanksgiving, may remember the course as the home of that event during the late 1980s. It's got some really DEEP bunkers.
Although I didn't originally plan to pick a winner every week, I think I may keep it up this year and see how I do. In the last two events I've picked a winner and another player I think will do well; so far I've got one winner (Xander Schauffele) and a T10 (Bryson DeChambeau) with my winners, and my other two picks have finished T4 (Rory McIlroy) and T10 (Charles Howell III). Let's see how I can do this week.
The Desert Classic strikes me as the first real "wild card" of the season since the variety of courses, combined with the "run and gun" aspect of the event (you generally need to go very low to win), tends to favor the player who throws caution to the win and just tries to post the most birdies. It's been a dozen years since the winning score was less that -20 (-17, Charley Hoffman in 2007) -- and that was when the event was a five-rounder. Hence any attempt to predict form is probably doomed to fail.
Nevertheless, I will. My picks are pretty simple.
Jon Rahm is the defending champion. He posted -22 and won in a playoff against Andrew Landry. Rahm seems to be in good form again, coming off a win at the Hero Challenge and a T8 at the Sentry Tournament of Champions. I see no reason he shouldn't play well again. HOWEVER, he isn't my pick to win.
Given the wide open nature of this event, I'm going with Justin Rose to win. Rose had a 3rd at the last WGC in October, a win at the Turkish Airlines Open in November and a 3rd at the Hero. While he's coming off an extended holiday, that hasn't hurt him in past years; he routinely has Top5 finishes in his January appearances. Likewise, I don't expect his recent equipment changes to have much of an effect either.
So there you have it. I pick Rose to win and Rahm to make a good showing.
And don't forget that the Web.com Tour's Bahamas Great Exuma Classic finishes up today at
1pm ET on GC.