The AT&T Pebble Beach Pro-Am is back, despite heavy rains and high winds. It should favor the longer hitters, who will be hitting much shorter clubs into the greens AND be able to stop them even better than usual.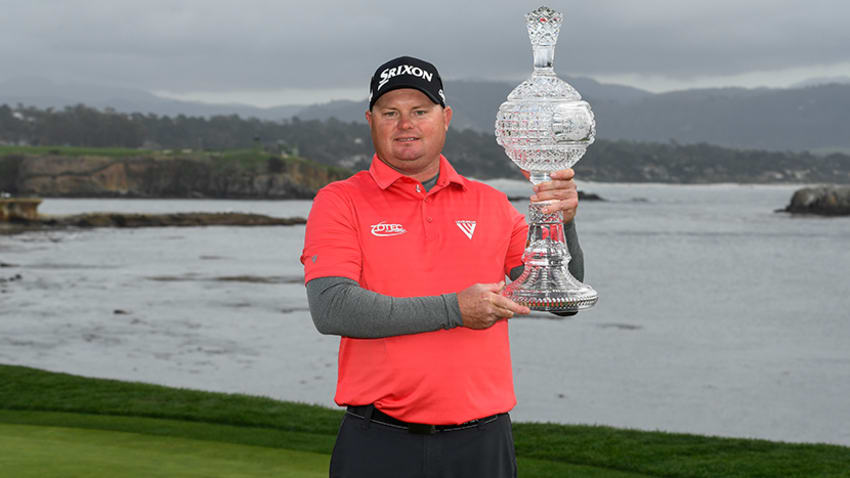 But I won't let simple logic bother me this week. I've been thinking about my picks too much lately. I'd have had Rickie to win last week if I'd just gone with my gut. I'm going to do that this week.
First, though, here's info about the tournament for those of you who are new to this event: This is a pro-am, meaning that not only do the pros play on their own score but also have a team score with an amateur partner, who will also get a trophy. This is the granddaddy of all pro-ams, with the longest history and some of the most popular celebrity names on the amateurs' trophy.
Three courses are used -- Pebble Beach Golf Links, Spyglass Hill GC and Monterey Peninsula CC's Shore course. The cut will be held Saturday night after everyone has had a chance to play all three courses, then the survivors will play Pebble Beach on Sunday. And despite what I said about long hitters having the advantage this week, that doesn't guarantee a long hitter will win. Last year's champion Ted Potter Jr. is proof of that.
Now let's get to my two picks:
My Top10 pick is Matt Kuchar. Kuch has been playing consistently at a very high level this season, with two wins so far. He had a chance last week at Phoenix but his putter didn't show up on Sunday in the bad weather -- an unusual condition for Phoenix. Having said that, you can be sure Matt won't be caught off-guard this week.
And my winner is Phil Mickelson. He's got four wins at this event and is hitting the ball pretty long this year. I don't expect him to hit driver all the time, however -- these courses are short enough that he can use a lesser club some of the time and take advantage of the improved accuracy he'll get with the shorter club. Add in Phil's love for this event and his determination to make up for missing the cut last week...
GC's coverage starts Thursday at 3pm ET
, but in past weeks they've shown some of the PGA Tour LIVE coverage (which starts at 11am ET). I expect they'll do the same this week.
Don't let me down, Phil. I'm counting on you!