Winner:
Rickie Fowler
Around the wider world of golf: Dustin Johnson won his first European Tour event (not co-sponsored) at the Saudi International; and Mark Anderson won the Country Club de Bogotá Championship on the Web.com Tour.
And in case you somehow missed it, the New England Patriots won Super Bowl LIII, giving them six trophies in 18 seasons. Whether you like them or not, you have to agree that it's an absolutely unbelievable accomplishment.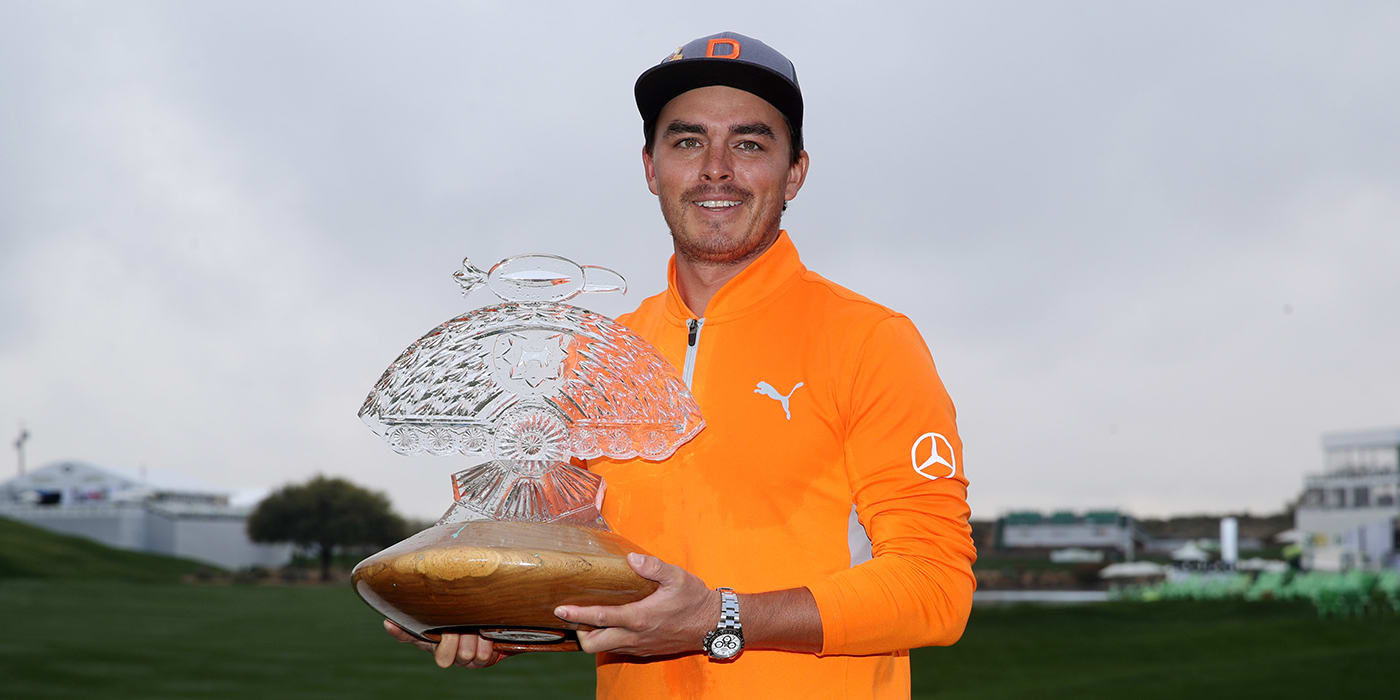 My picks for the Phoenix Open this week
were Xander Schauffele (T10) to win and Rickie Fowler (1) to Top10. As it turned out, I had them backwards. That puts my totals for 2019 so far at:
Winners: 1 for 5
Place well (Top10): 4 for 5 (2 Top5 finish, 2 more Top10s)
Overall Top10s: 7 of 10 (3 Top5s, 4 more Top10s)
Ironically, when I originally wrote the post, I picked Rickie to win. Why did I change? Because while I thought Rickie, like Justin Rose the week before, would play better after a week of knocking off the rust, I felt that Rickie was less likely to jump from T66 to 1 than Rose had been to jump from T20.
Sometimes I think too much...
But for a while it looked as if I might be right. Rickie's four-stroke lead evaporated quickly in the bad weather that descended on TPC Scottsdale Sunday. A double-bogey and an unbelievably unlucky triple stripped away his entire lead and set Branden Grace alone on top of the leaderboard, as all of the last pairings were unable to do any better than Rickie.
It looked as if Rickie would come up short once again and his critics would be proved right, that he wasn't a "closer" after all.
And then something strange happened. Rickie found something deep inside, something that steadied his nerves and allowed him to rally. His usually poor performance on the final five holes turned into a two-under stretch, giving him a two-stroke win as Grace struggled to finish. It wasn't the dominant finish most expected... but then,
nobody
posted a dominant finish!
Rickie posted the gutty finish he needed and closed the tournament with a win.
I know the analysts will debate whether Rickie 'proved" anything Sunday or not. But I think he did, and I think it will stand him in good stead as he moves forward this year. Sunday's finish was a harder victory than a four- or five-stroke win would have been, and no critic will be able to take it away from him.
It will certainly make this Limerick Summary that much sweeter.
A four-stroke lead wasn't enough
'Cause TPC Scottsdale played tough
Once it started to rain.
Rickie said, "Not again—
I'll show critics I'm no powderpuff!"
The photo came from this page at pgatour.com.