So I'm making my "pick day" official. This 'Twofer Tuesday' gives you my picks for THE PLAYERS.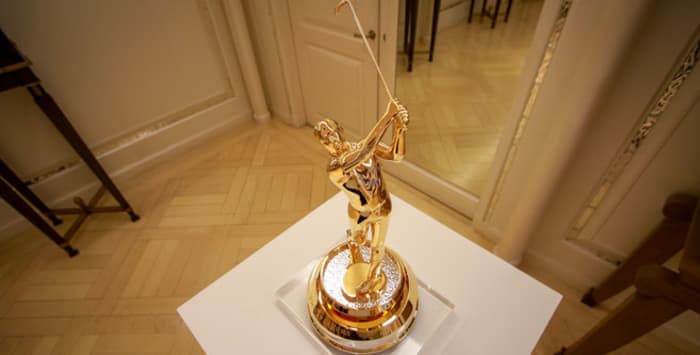 TPC Sawgrass is legendary. Pete and Alice Dye's masterwork has distinguished itself as a 'fair' test, meaning that it doesn't require a certain style of golf in order for a player to be successful. Long hitters and short hitters alike have won here over the years, and the winner is often a surprise because no one is eliminated from contention -- at least, not for the same reasons they might fall away during a typical Tour event.
The defending champ, Webb Simpson, capped off an amazing comeback from the USGA's now-notorious 'anchoring ban' that eliminated the popular belly putting technique. Webb isn't the only one to find a new way to putt successfully, but he's the first to win a major-level tournament after beating the ban.
But this year, a new wrinkle -- actually two -- has been added to the mix. The return to a March date means that we have no idea how Sawgrass will play for the current crop of pros. While roughly two dozen players in this week's field have played a March PLAYERS before, that was over a decade ago. The newer stars have never seen Sawgrass under these conditions -- windy and overseeded.
Add in the myriad changes in equipment since THE PLAYERS was last played in March and you've got the makings of a wide-open tournament, the likes of which we've never seen before. This also means that past performance is NO indication of what we might see this week.
So who have I chosen as my winner and my Top10 picks?
My Top10 is Ian Poulter. Part of me wants to go with Tommy Fleetwood but he's been a bit erratic lately, while Poults has been playing well all over the world. In fact, he's number 2 in the Race to Dubai. And since most players say Sawgrass is tougher in March, I tend to think the Match Play Ninja will find this setup to his liking.
And I pick Francesco Molinari as my winner -- and not because he won the API this past week. Francesco hasn't played much this season but, with only three starts in 2019, he has improved in each event -- and I realized early in Sunday's round that his game seems to have already come around. Yeah, I know that no one has ever won THE PLAYERS after winning the week before... but there can always be a first time.
So there you have it. I'm an American and I've picked two solid European Ryder Cuppers to play well this week. I think I'm in safe territory.
GC begins their coverage on Thursday at 1pm ET,
but PGA TOUR LIVE will be streaming at 7:30am ET that morning. There's also a bit of streaming at 5pm ET this afternoon and at noon ET on Wednesday. Everybody's fascinated to see how the new schedule will affect the players after a decade or so playing in May. Should be interesting!