Winner:
Kevin Kisner
Around the wider world of golf: Nasa Hataoka got her third LPGA win at the Kia Classic; Stephen Gallacher broke a five-year winless streak at the Hero Indian Open on the ET; Dan McCarthy won his first Web.com Tour event at the Savannah Golf Championship; Jared Wolfe won the Buenaventura Classic for his third PGA TOUR Latinoamérica victory; Taihei Sato became the first Japanese player to win a PGA TOUR Series-China event at the Chongqing Championship; Jillian Hollis won the IOA Championship presented by Morongo Casino Resort & Spa for her first win on the Symetra Tour; and Graeme McDowell broke his winless streak at the Corales Puntacana Resort & Club Championship, the PGA Tour's alternate field event, for his fourth PGA TOUR win. The Champions Tour will finish a playoff today to learn whether Kevin Sutherland or Scott Parel will win the Rapiscan Systems Classic.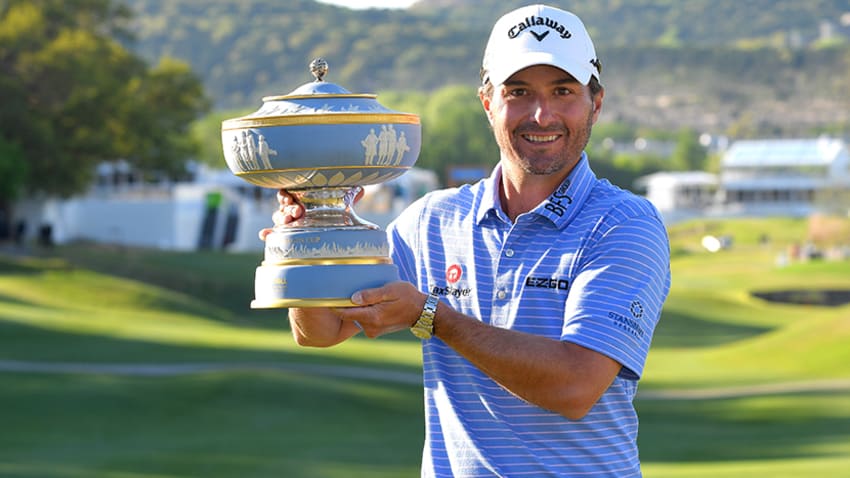 I confess that I'm dumbfounded at the results of my Tuesday Twofer picks. I picked Paul Casey (T9) to win and Justin Thomas (T24) to Top10. Molinari knocked out Casey, I can accept that, but JT didn't even make it out of pool play! What has the world come to?
Winners: 2 for 13
Place well (Top10): 8 for 13 (4 Top5 finish, 4 more Top10s)
Overall Top10s: 15 of 26 (6 Top5s, 9 more Top10s)
Oh well, at least we got some killer matches this year.
As it turned out, the championship match wasn't one of them. But I suppose that's to be expected after seven rounds in five days. It's got to take a toll on players, no matter how they try to pace themselves.
The fact that Kevin Kisner made it back to that final match for the second year in a row was just amazing. And when you realize that Kisner trailed in the semis against Molinari on
only one hole
(the 3rd) and NEVER trailed Kuchar in the finals, youi have to concede that Kisner's play on Sunday was better than the telecast might have made it look.
It took him fourteen matches -- seven last year and seven this year -- to get the job done, but he did it. He can't help it that his opponents just couldn't get it done against him.
This is definitely the biggest win of Kisner's career so far, and it's his third PGA Tour win. Moreover, it helps establish him as an elite match player -- something that will not be lost on future Presidents and Ryder Cup captains!
But for now, Kevin, a mere week away from the Masters, you have my permission to just sit back and celebrate -- and read your newest Limerick Summary as many times as you wish. You won't have to compete against anybody to do that!
Consecutive years, fourteen matches
Where Kisner was golden in patches—
But this year he won!
He got the job done
'Cause Matt failed to score with his chances.
The photo came from this page at pgatour.com.