The women have played. The juniors have played. Now it's time for the Masters proper. That's why Tiger is smiling...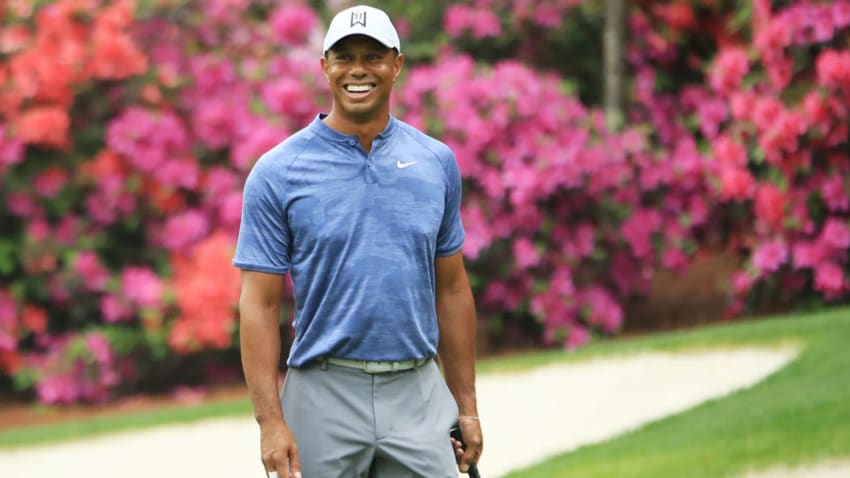 I'm not going to bore you with any details of the event -- you KNOW the history of the Masters and what it's all about. So let's just get to the picks, okay?
The Masters is always a bit difficult to pick for a variety of reasons. The players are extremely familiar with the course, there's usually very little rough, and many of the players just seem to find another gear at Augusta, no matter what their form looks like going in. Add a lot of rain into the mix -- which traditionally seems to have favored the short hitters -- and you've got a free-for-all just waiting to happen.
But this year adds a new wrinkle, and that's the dramatic schedule change. There are no off-weeks this season, and players are feeling their way through the new schedule. I think that may have a bigger effect than most expect, but there probably won't be any way to quantify its effect or even prove that it has an effect. At any rate, it's yet another unpredictable factor in the picks.
Let me eliminate a couple of favorites right now. Jordan Spieth could certainly find his game this week but I just don't see him putting four rounds together -- and that's basically what has killed his chances for the last two years at least. And while I like Rory McIlroy's new mental approach and expect him to win a Masters in the next two or three years, I simply don't expect it to happen this year -- I don't think he'll be able to apply that new mental game until he's found out exactly what Augusta will throw at him this year.
So who should I pick?
For my Top10 I'm taking Tiger Woods. I'm not sure Tiger has had time to find the balance of play and rest in this new schedule. I think he will before the year is out but, as with Rory, I think Augusta might throw him a few curves this time around. Still, I think his game is in good enough shape that he can make a run on Sunday and post yet another Top10 at this event.
And my winner? I have to take Francesco Molinari. His win at the API was proof that his game is back in shape, he should be well rested after a week off -- he also took a week off before the API -- and I think the wet course may help him by allowing aggressive shots with longer clubs. And that will only give him more opportunities to exploit that awesome short game of his.
Let me add that I'm pulling for Rickie Fowler to break through this time, but I think Francesco has a better chance of winning so he's my pick. If Rickie wins, I won't complain about being wrong. ;-)
This page at pga.com has the complete TV schedule for Masters week.
Bear in mind that ESPN has the Thursday and Friday coverage, while CBS has its traditional weekend coverage.
ESPN's coverage starts at 3pm ET on both days of their coverage,
and they'll be covering the Wednesday par-3 tournament as well. Masters.com will be handling the streaming coverage.
Given all the storylines at play this week, this should be a fun Masters to follow!