Winner:
Kevin Na
Around the wider world of golf: Bronte Law got her first LPGA win at the Pure Silk Championship; Bernd Wiesberger won the Made in Denmark event on the ET; Ken Tanigawa got his first Champions Tour major at the Senior PGA Championship; Scottie Scheffler got his first Web.com Tour win at the Evans Scholars Invitational; Jake Knapp won the Canada Life Open on the Mackenzie Tour; Drew Nesbitt won the Abierto Mexicano de Golf on the PGA TOUR Latinoamérica; Kevin Techakanokboon won the Nantong Championship on the PGA TOUR China; Nuria Iturrios won her first Symetra Tour event at the Zimmer Biomet Championship; Annabel Dimmock won her first LET event at the Jabra Ladies Open; Tomoharu Otsuki won the Kansai Open Golf Championship on the Japan Golf Tour; and Duke won the NCAA Div1 Women's Golf Championship. Maria Fassi (University of Arkansas) won the individual title.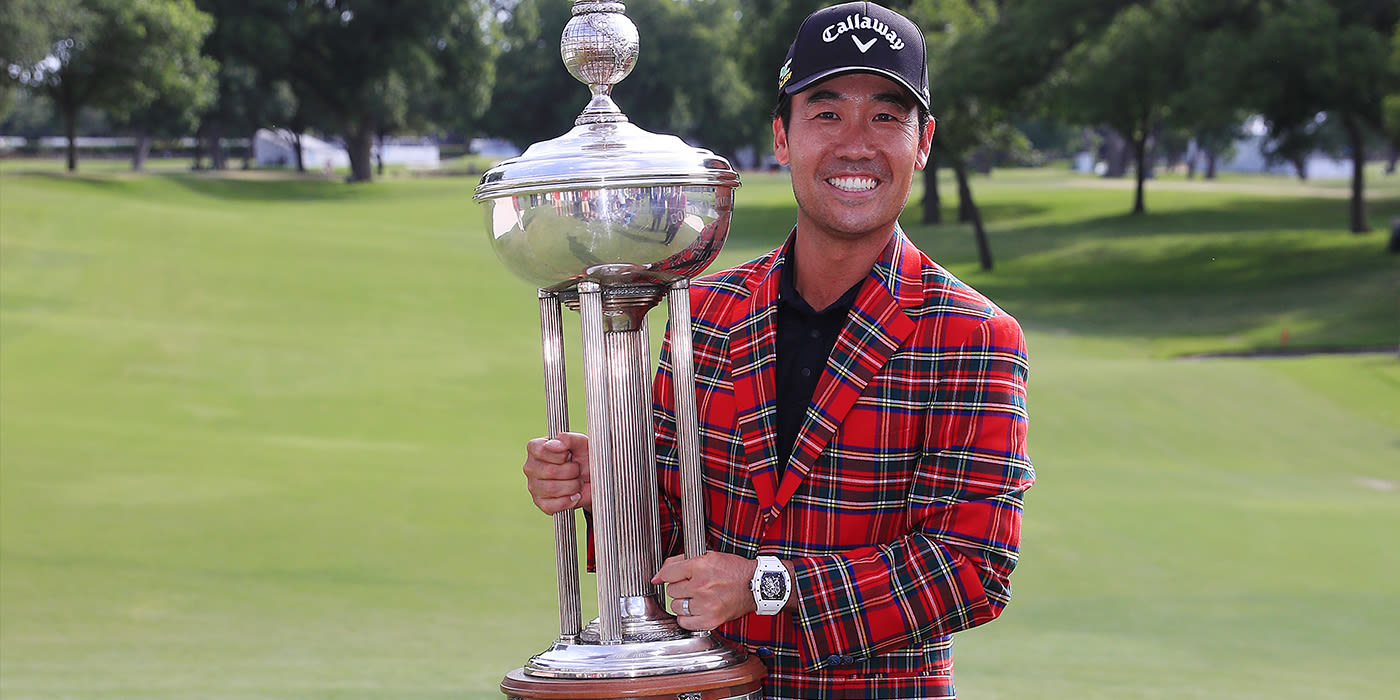 Is it my imagination or are my Tuesday Twofer picks just jerking my chain? I picked
Jordan Spieth
(T8) to win and
Graeme McDowell
(73) to Top10. Jordan teased me for three rounds before going backward, and Graeme was dead last to make the cut and dead last overall in the field. What's a poor blogger got to do to get a decent pick around here?
Winners: 2 for 21
Place well (Top10): 11 for 21 (6 Top5 finish, 5 more Top10s)
Overall Top10s: 22 of 42 (11 Top5s, 11 more Top10s)
But I'm not too disappointed by Kevin Na's showing -- not only because I like his grittiness but because it gives me another chance to post this music video. It's become my way to celebrate for him!
When asked by the media what he thought he had to shoot Sunday in order to win, Kevin told them he thought 67 -- which would put him at -12 -- would probably win it for him.
As it turned out, he shot 66 and could have won it with 69. Going two-under in the final five holes put it away easily.
And if I didn't have enough reason to like Kevin already, the fact that he gave his caddie Kenny the keys to that sweet 1973 Dodge Challenger would have done it.
They'll be talking about this win for a few days, simply because Kevin made it look so easy. But after taking so long to get his second PGA Tour win, the third one came less than a year later. That -- and a sweet Limerick Summary, of course -- will make this one Kevin will remember for a long time.
Na said, "Twelve gets it done." He was right!
As it turned out, he took quite a bite
From the field with his run
To thirteen. They were done
Long before the last shot of the fight.
The photo came from this page at pgatour.com.