Winner:
Nate Lashley
Around the wider world of golf: Sung Hyun Park won the Walmart NW Arkansas Championship on the LPGA; Steve Stricker made the US Senior Open his second Champions Tour major of the year; Kristoffer Ventura won the Utah Championship on the Korn Ferry Tour; Christiaan Bezuidenhout won the Estrella Damm NA Andalucía Masters on the ET; Rikuya Hoshino won the Dunlop SRIXON Fukushima Open Golf Tournament on the Japan Golf Tour; and Perrine Delacour won the Prasco Charity Championship on the Symetra Tour.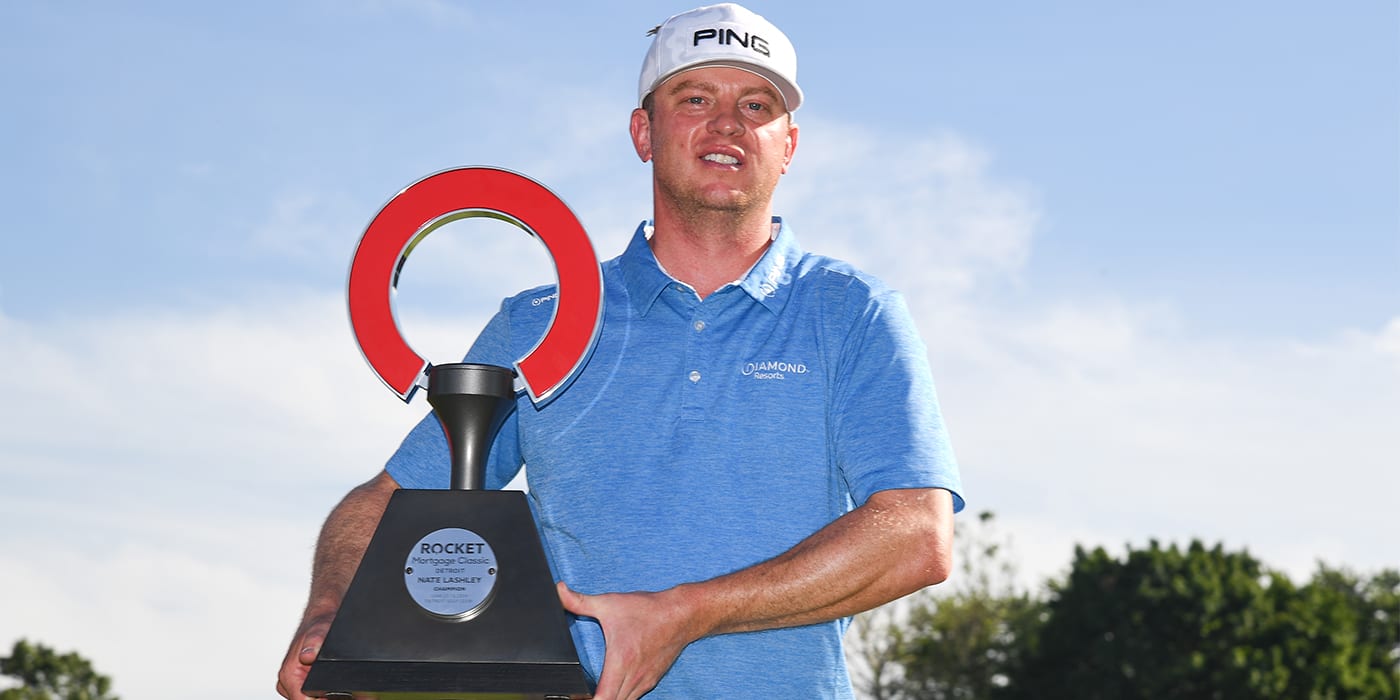 I guess some things never change, like the fates of my Tuesday Twofer picks. I picked
Xander Schauffele
(WD) to win and
Chex Reavie
(MC) to Top10. But my field list showed Xander still in the field on Tuesday, so I'll have to stop trusting those things. And Chez? He played well on Thursday and then I guess he saw I picked him. Oh well..
Winners: 2 for 26
Place well (Top10): 11 for 26 (6 Top5 finish, 5 more Top10s)
Overall Top10s: 22 of 52 (11 Top5s, 11 more Top10s)
But for the third week in a row, I doubt this week's winner was on anybody's short list.
And I doubt few people are disappointed he won.
You probably know the story. Nate Lashley lost his mom, dad and girlfriend in a plane crash back in May 2004. If that wasn't bad enough, he's fought all kinds of problems since then and was playing on a medical exemption this week. He was the last alternate to make the field, mid-day Wednesday.
Then he blew that field away by six strokes. Only Rory had a larger win (seven strokes) this season. And Nate's sister, his new girlfriend and a dozen or more friends from Phoenix and Nebraska were waiting for him when he walked off that final green.
Of course, enough swag came with that win -- money, a two-year exemption, a trip to the Open and everything else -- to change his life dramatically.
And if that wasn't wild enough, the runner-up was Doc Redman. The medalist in the Monday qualifier changed his life as well, making this a week of miracles for
two
struggling pros.
Nate says he'll need some time to adjust to all the great things that have just happened to him. But hopefully he won't need long to adjust to his status as the newest Limerick Summary recipient. It's an honor that's long overdue... and well deserved.
The mem'ries of tragedy past
Could not deter Nate at the last.
As he sank those last putts
His supporters went nuts
'Cause his play left the whole field outclassed.
The photo came from this page at pgatour.com.