Winner:
Justin Thomas
Around the wider world of golf: Thomas Pieters broke his winless streak with a victory at the D+D Real Czech Masters on the ET; in only his second Champions Tour start, Doug Barron won the Dick's Sporting Goods Open; Derek Barron (no relation) won the Players Cup on the Mackenzie Tour; Ssu-Chia Cheng won the FireKeepers Casino Hotel Championship on the Symetra Tour; Andrew Dodt won the Sarawak Championship on the Asian Tour; and Andy Ogletree won the US Amateur Championship.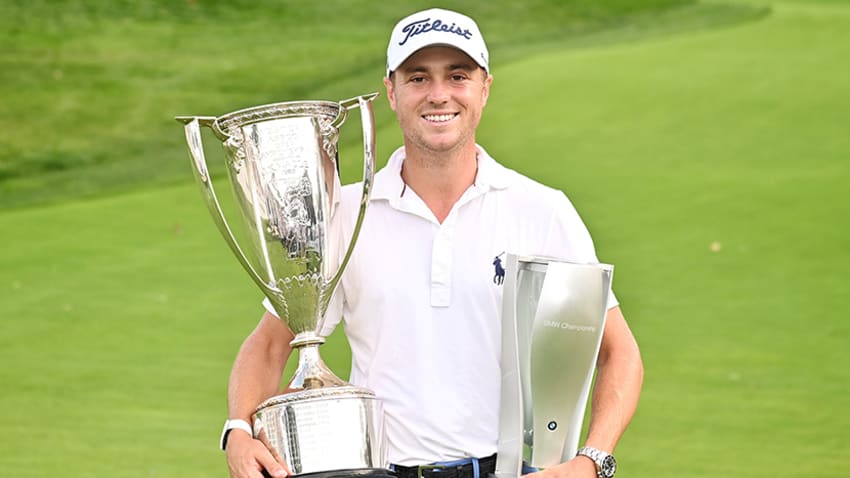 It appears that the pressure of the Playoffs is nothing compared to being a Twofer Tuesday pick! This week I had
Webb Simpson
(T24) to win and
Rory McIlroy
(T19) to Top10. I thought the pros knew how to deal with pressure?!
Winners: 2 for 33
Place well (Top10): 16 for 33 (9 Top5s, 7 more Top10s)
Overall Top10s: 27 of 66 (14 Top5s, 13 more Top10s)
Pressure didn't seem to bother Justin Thomas, however. A six-shot lead tends to make anybody second-guess themselves -- you don't want to be the guy who lost with a big lead, and it had already happened to JT once -- but a slow front nine was wiped away with fast back nine.
Second place finisher Patrick Cantlay started fast -- and also finished fast -- but he was just a bit too far back to start the day. JT managed to pull out a three-stroke win and get his first victory of 2019.
Cantlay did make him think about it, though.
Both guys showed Brooks a thing or two as well, bumping him out of first place in the FedExCup points list all the way down to third. Cantlay now finds himself in second place while JT sits, as we say here in the South, "in the catbird seat."
But JT will have plenty of time to think about that when he gets to East Lake. For now, I'm sure the only thing that matters is getting another Limerick Summary for his growing collection.
Once JT's course record was done,
The vict'ry was pretty much won.
He shot to the top
Of the points list; next stop?
Down to East Lake, where he'll be The One.
The photo came from this page at pgatour.com.