Winner:
Patrick Reed
Around the wider world of golf: Mi Jung Hur set a tournament record while winning the Aberdeen Standard Investments Ladies Scottish Open on the LPGA/LET; Bo Hoag sealed his PGA Tour card with a win at the WinCo Foods Portland Open on the Korn Ferry Tour; Hayden Buckley won the ATB Financial Classic on the Mackenzie Tour; and Robynn Ree won her second straight Symetra Tour event at the PHC Classic.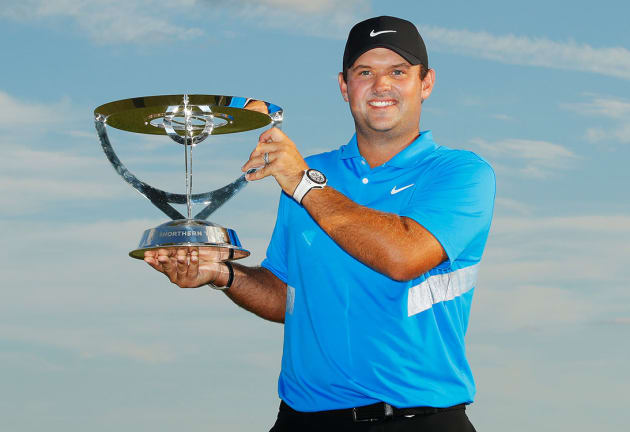 So what's up with Brooks? When my Twofer Tuesday picks say he'll Top10, he wins... but if I pick him to win, he doesn't even Top10! This week I had
Brooks Koepka
(T30) to win and
Rory McIlroy
(T6) to Top10. At least Rory knows what to do.
Winners: 2 for 32
Place well (Top10): 16 for 32 (9 Top5s, 7 more Top10s)
Overall Top10s: 27 of 64 (14 Top5s, 13 more Top10s)
Do any of you keep up with the Marvel Cinematic Universe? If you do, you know that Iron Man was the heart and soul of that franchise, that the first Avengers movie centered around the Battle of New York and that, while Captain America fought valiantly, ultimately it was Iron Man who turned the tide and sealed the victory there.
But in the Battle of New Jersey on Sunday, golf's Iron Man (Brooks Koepka) came up short in the heroics department. Instead, Captain America landed the winning blow.
Patrick Reed has struggled for most of the last 16 months since his last victory. Not only has his game suffered, but he has also dealt with fallout from, shall we say,
unwise
Ryder Cup comments, among other things. However, while Captain America may have been frustrated, no one can ever say he lacked confidence. His victory in Jersey may have surprised the field but it didn't surprise him.
Now he's #2 in FedExCup points, guaranteed a trip to East Lake and trailing only the Iron Man himself. Clearly the superheroes have moved to the front of the pack. (I'm guessing Rory could be Green Lantern since the Kyle Rayner incarnation was half-Irish.) Let's just say that the Playoffs have gotten a lot more interesting!
At any rate, while I know it's not as useful as a Vibranium shield, Captain America does get a shiny new Limerick Summary that he can wave in Iron Man's face -- er, mask. That may be even more valuable to Patrick!
When Iron Man could not get it done,
Golf's Captain America won!
Reed's game showed up big time
When he hit the back nine;
In Jersey, he gave ground to no one.
The photo came from the homepage at pgatour.com.