Winner:
Cameron Champ
Around the wider world of golf: Victor Perez got his first ET win at the Alfred Dunhill Links Championship; Mi Jung Hur went wire-to-wire at the LPGA's Indy Women in Tech Championship; Marta Sanz Barrio won the IOA Golf Classic on the Symetra Tour; Kirk Triplett won his third PURE Insurance Championship on the Champions Tour; Shad Tuten won his first PGA TOUR Latinoamérica title at the 66 JHSF Aberto do Brasil; Carlota Ciganda won the Estrella Damm Mediterranean Ladies Open on the LET; Toshinori Muto won the Panasonic Open Golf Championship on the Japan Golf Tour; and Yuxin Lin won his second Asia-Pacific Amateur Championship title in three years.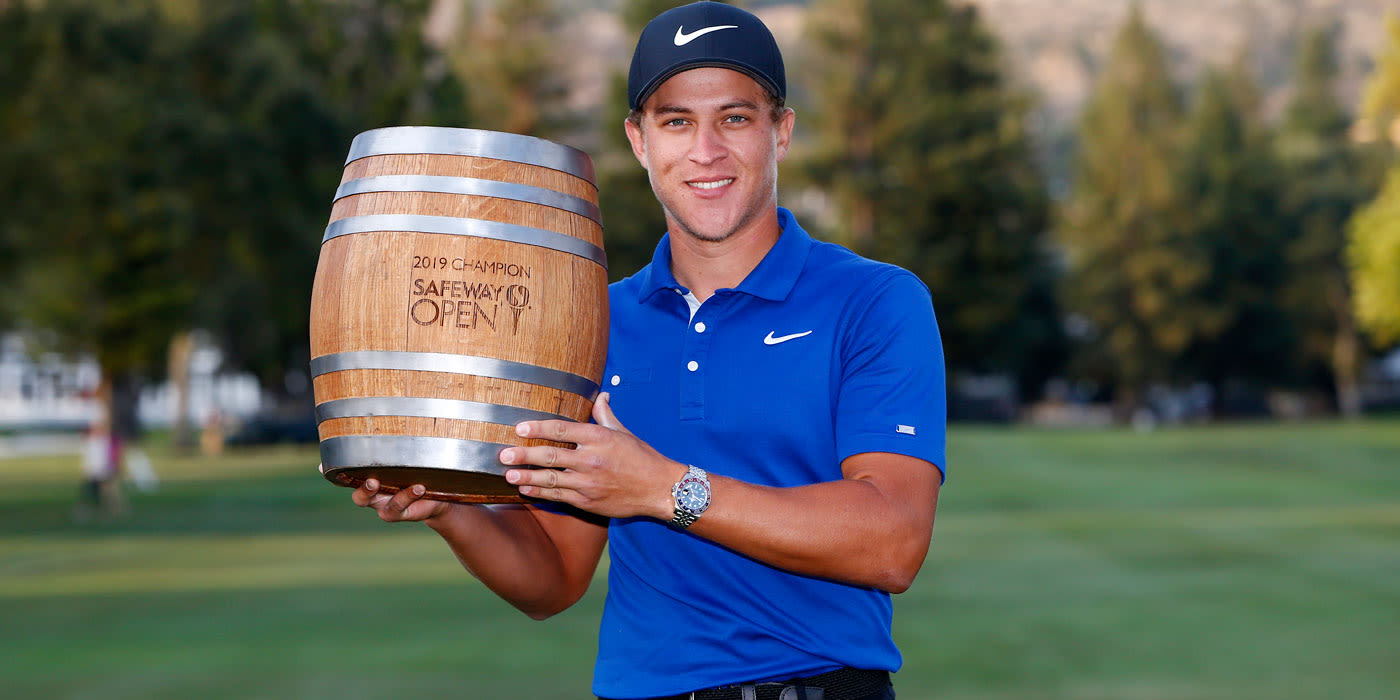 A so-so week for my Twofer Tuesday picks. I had
Justin Thomas
(T4) to win and
Ryan Moore
(MC) to Top10. Although JT didn't win, he did add an overall Top10 to my stats.
Winners: 2 for 39
Place well (Top10): 17 for 39 (9 Top5s, 8 more Top10s)
Overall Top10s: 31 of 78 (16 Top5s, 15 more Top10s)
As has been the case for the last two events of the new wraparound season, our winner this week was unexpected. Cameron Champ has won before, of course, but his game hasn't been particularly sharp since his first win. Add to that his grandpa's current battle with stomach cancer and Cam's daily visits to visit him in hospice care -- for those of you unfamiliar with hospice, it's not a good sign -- and you just wouldn't expect him to have his mind on golf.
So it probably comes as no surprise that Cam defied our expectations and got his second Tour victory. It was a tight finish; Adam Hadwin went crazy on the back nine and Cam went to the 18th tee tied for the lead. But after struggling with his driver -- traditionally the strongest club in his bag -- Cam piped it down the 18th fairway and let his short game -- traditionally the weakest part of his game -- do what it had done all week.
The one-stroke victory left Cam in tears as he talked about his grandpa, the man who is responsible for his career in golf. Perhaps it was the perspective of what's important that had evaded Cam lately, I don't know. But I know that he found the proper balance between golf and life this week.
And he also found a second Limerick Summary to add to the rest of his tournament swag, along with my best wishes to his grandpa.
After drives to see Grampa all week,
A drive on 18 let Cam sneak
Just past Hadwin to win
On the Tour once again—
A real bright spot when life has seemed bleak.
The photo came from this page at pgatour.com.