Winner:
Joaquin Niemann
Around the wider world of golf: Suzann Pettersen announced her retirement from tournament golf by sinking the winning putt on the 18th hole of the final match to give Europe the Solheim Cup, 14.5-13.5; Jerry Kelly won the Ally Challenge on the Champions Tour; Patrick Fishburn won the Canada Life Championship on the Mackenzie Tour; Quincy Quek won the Haikou Classic on the PGA TOUR China; Yosuke Asagi won the ANA Open on the Japan Golf Tour; Sergio Garcia won the KLM Open on the European Tour; and Rory Hie won the Classic Golf and Country Club International Championship on the Asian Tour.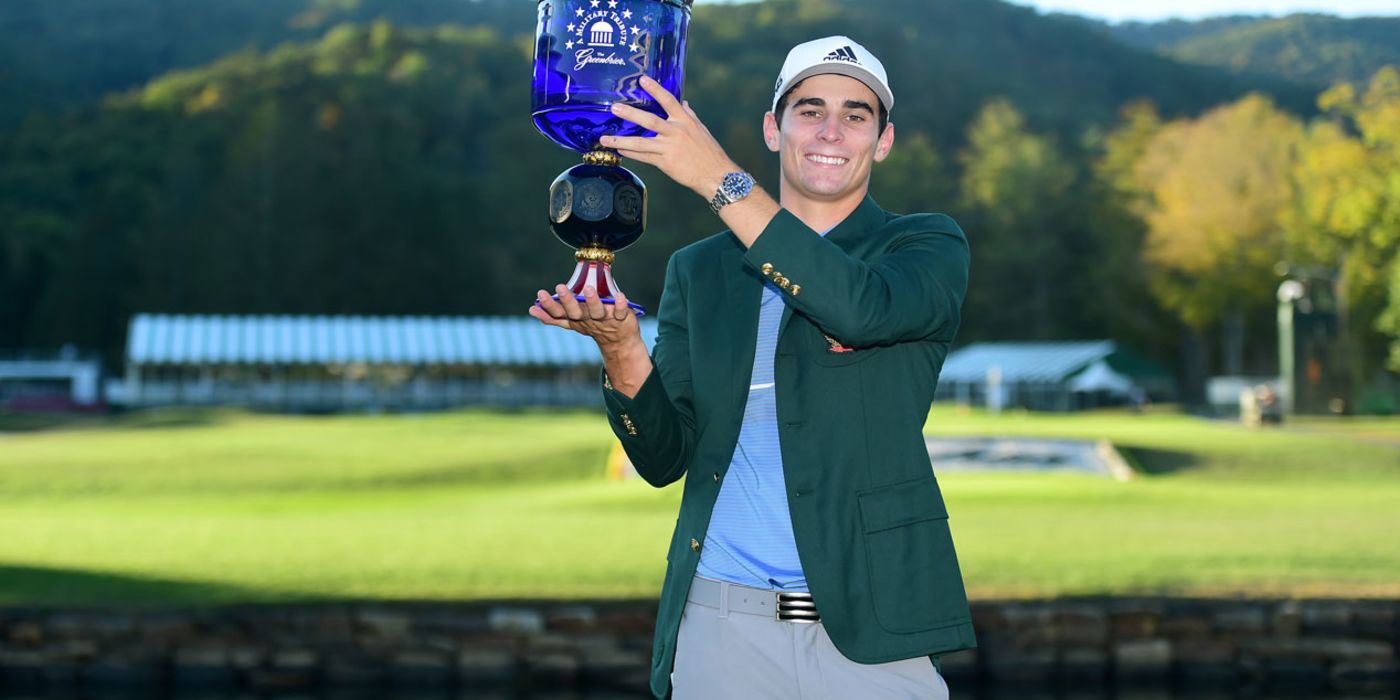 It's a new season for my Twofer Tuesday picks and at least half of them got off to a good start. I had
Tom Lewis
(MC) to win and
Viktor Hovland
(T10) to Top10. At this point I'll take whatever encouragement I can find.
Winners: 2 for 37
Place well (Top10): 17 for 37 (9 Top5s, 8 more Top10s)
Overall Top10s: 30 of 74 (15 Top5s, 15 more Top10s)
Perhaps I should take some consolation that I have picked a number of players just a few weeks (or months) before they broke through for a win. I had picked Joaquin Niemann to win earlier this year, but it looks like I was ahead of the curve again. He needed a few months to get finally get it together.
And boy, did he ever get it together at the A Military Tribute at the Greenbrier event! He stomped the field by six shots, finally putting Chile on the golfing map. Of course he's only 20 years old and -- in "the old days" anyway -- nobody would expect too much at this point.
But this is the age of the instant success story, and the pressure must be huge for the youngsters who need a bit more of a learning curve before they can truly hope to make a mark. And when you carry the hopes of an entire country on your shoulders...
Joaquin doesn't need to worry about that anymore. He's got his first PGA Tour win with all the assorted perks, and he made history to boot. But listen up, Joaquin, I've got some more news for you -- you're also the first golfer from Chile to take home a Limerick Summary. Life is looking good, my man!
Becoming the first man from Chile
To win should make Joaquin a really
Big sports star back home.
His potential's been shown—
When you win by six shots, that's revealing!
The photo came from this page at pgatour.com.