After a two week hiatus the PGA Tour is back. Although this event has been officially renamed "A Military Tribute at The Greenbrier," I'm going with the shorter title and trusting you'll all remember the military tie-in.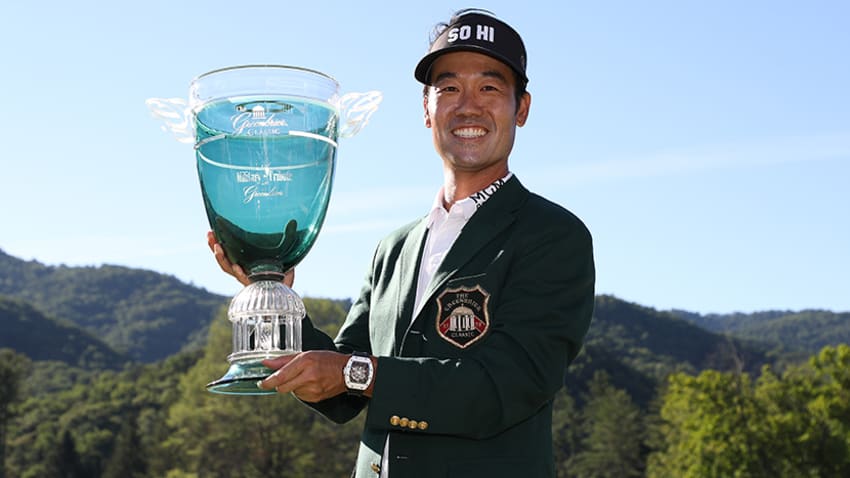 The Greenbrier sat out last season so it could assume its new position as the first event of the PGA Tour wraparound season. Physically it remains a luxury resort located in the Allegheny Mountains of West Virginia. It's a place that many of the Tour pros have moved to, and it's one of the stops where families have plenty to do while Dad whacks the old dimpled ball around.
The Old White TPC is the only Tour course with a par-3 finishing hole. At 7292 yards and a par of 70 -- and that gorgeous mountain scenery -- it's a reasonably challenging start to a long season, one that frequently gives us surprise winners. (And on occasion, very low scores.) Kevin Na is the defending champion.
As the first event of the new PGA Tour season, there are a number of newly-minted pros teeing it up after graduating from the Korn Ferry Tour. And I'm looking to them this week, in hopes that they will change the fortunes of my Twofer Tuesday picks.
My Top10er is Viktor Hovland. After ensuring his card at the Korn Ferry Finals, he skipped the final event to prepare for this start. I've had high hopes for Viktor since he turned pro -- some of you will remember that I picked him to win at the Deere -- and I haven't lost my enthusiasm for his future. However, I think he may (like Justin Thomas) take a bit longer to hit his stride and get his first win. That doesn't mean he can't chalk up his first Top10 as a Tour member though.
And my winner is Tom Lewis. The 28-year-old Englishman took a flier at getting his Tour card at the Korn Ferry Tour Championship... and promptly won his only Korn Ferry start to lock up a card. Perhaps he'll suffer the letdown so many players seem to experience after a first win but I'm willing to take a flier myself and pick him to win his first start as a carded PGA Tour player.
GC's coverage starts Thursday at 2pm ET,
with the PGA TOUR LIVE stream beginning at 7am ET.