Winner:
Kevin Na
Around the wider world of golf: Jon Rahm destroyed the field at the ET's Mutuactivos Open de España; Christine Wolf won the Hero Women's Indian Open on the LET; Cheyenne Knight won the Volunteers of America Classic on the LPGA; Augusto Nunez won the Banco del Pacifico Open on the PGA TOUR Latinoamérica; Laura Wearn won the Symetra Tour Championship; Shaun Norris won the Top Cup Tokai Classic on the Japan Golf Tour; and Suradit Yongcharoenchai won the Mercuries Taiwan Masters on the Asian Tour.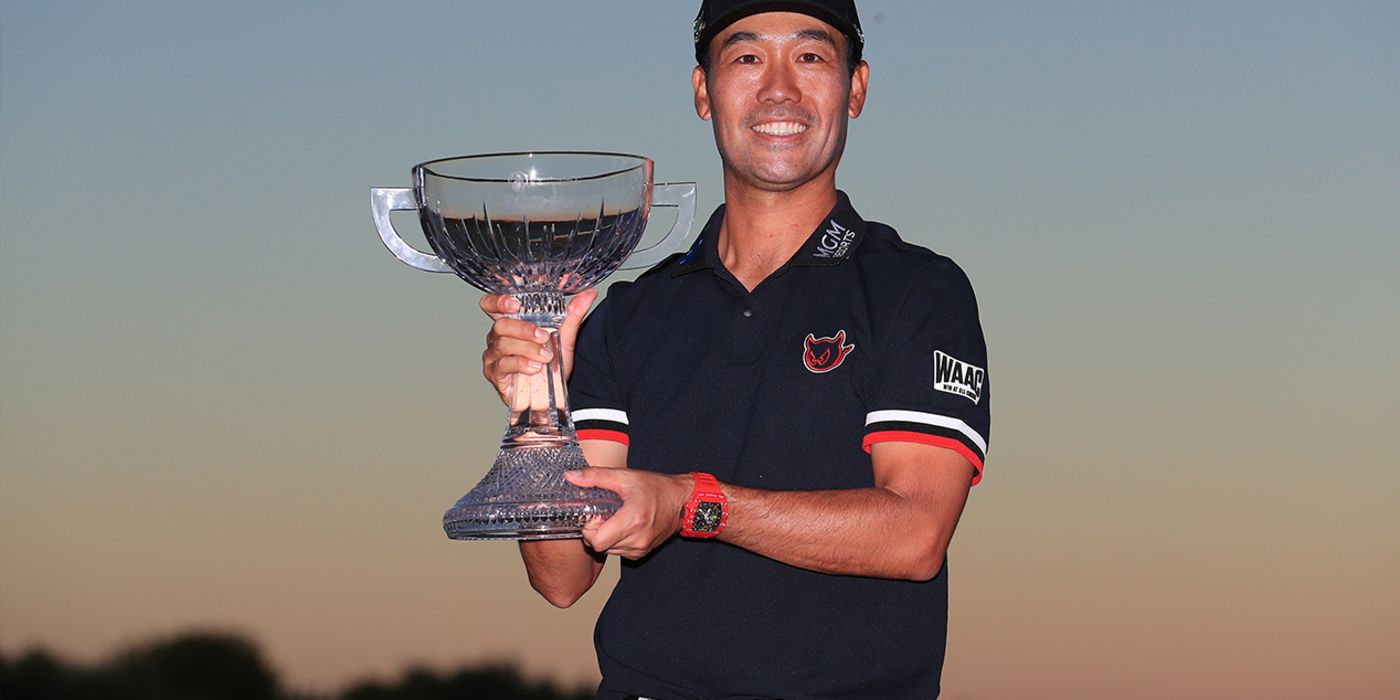 After a long dry spell, my Twofer Tuesday picks finally paid off. I had
Adam Hadwin
(T4) to win and
Patrick Cantlay
(2) to Top10. Although Adam didn't win, I'm not going to complain about two Top5 finishers!
Winners: 2 for40
Place well (Top10): 18 for 40 (10 Top5s, 8 more Top10s)
Overall Top10s: 33 of 80 (18 Top5s, 15 more Top10s)
That's not to say that my boys didn't make a good run at the Shriners Hospitals for Children Open -- especially Cantlay. And if Kevin Na hadn't brought his magic putter, forged by angels in the same fires as the legendary Excalibur, somebody else might have won.
I said
might have
. The way Na played, I can't say for sure. But that putter allowed him to break all the records for most feet of putts made during a single tournament, and not even a triple-bogey on ten and a bogey in the pond at sixteen could derail his march toward the trophy.
It's a measure of how well he putted that Cantlay made a single error in the last few holes -- a bogey on 17 -- and yet, despite a barrage of birdies coming in, could only manage to force a playoff.
Which Kevin Na and his angel-touched putter won with relative ease.
I don't think I'll ever root against Kevin Na. He's fought a lot of very public battles with his game -- battles that derail many a player's career -- and has come out on top. This was his second win of 2019 and third win in two years, both of which are new territory for him. And the fact that he appreciates what is happening so much makes it easy to root for him.
Tiger likes him too, you know, and I'd be surprised if he isn't rooting for Kevin as well. You can be sure he's watching him closely, what with the Presidents Cup right around the corner.
But while Kevin waits for the Big Cat's phone call, here's another Limerick Summary (his second this year!) to keep him occupied:
On ten, Kevin carded a triple;
Soon after, his ball found a ripple.
They left eighteen tied
But Pat's playoff hopes died
When Kev's putter proved it wasn't fickle.
The photo came from this page at pgatour.com.