I would be remiss if I neglected the Charles Schwab Cup Championship and the Schwab Cup itself. The end of the season starts today!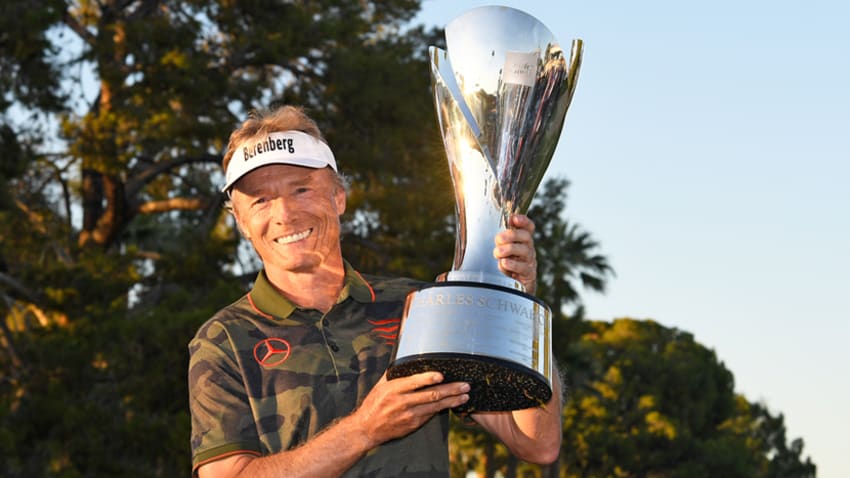 The 2018 Schwab Cup race winner is five-time champ Bernhard Langer, although the 2018 championship winner is Vijay Singh. After a brief test, last year the Champions Tour went back to letting the points determine the Cup winner. That means we have four possible winners in the year-long race:
Scott McCarron
Jerry Kelly
Bernhard Langer
Colin Montgomerie
Technically, Retief Goosen still has a mathematical chance at the Cup, but he must win and:
McCarron must finish T12 (three-way) or worse, and
Kelly must finish T5 (two-way) or worse
His chances of getting both seem long to me, but the possibility is there.
You can see the scenarios for each of the possible winners on this page at pgatour.com
. McCarron and Kelly are so far ahead that the odds dramatically favor them (all either must do is win and the Cup is his), and they favor McCarron much more than Kelly (because McCarron could potentially finish dead last and still win, depending on what the others do).
GC's live coverage begins today at 3pm ET,
amid the coverage of all the other events going on. Bear in mind that if Langer wins, he also pulls within four Champions Tour wins of Hale Irwin, so although he is the only one of the possibles who has won the Cup before, he will be playing with more pressure than the others. Should be fun to watch!