Winner:
Webb Simpson
Around the wider world of golf: Graeme McDowell reentered the OWGR Top50 with his win at the Saudi Invitational; Brett Quigley won the Morocco Champions in only his second Champions Tour start; Davis Riley won his first Korn Ferry Tour title at the Panamá Championship; and the Kansas City Chiefs won their first Super Bowl in 50 years!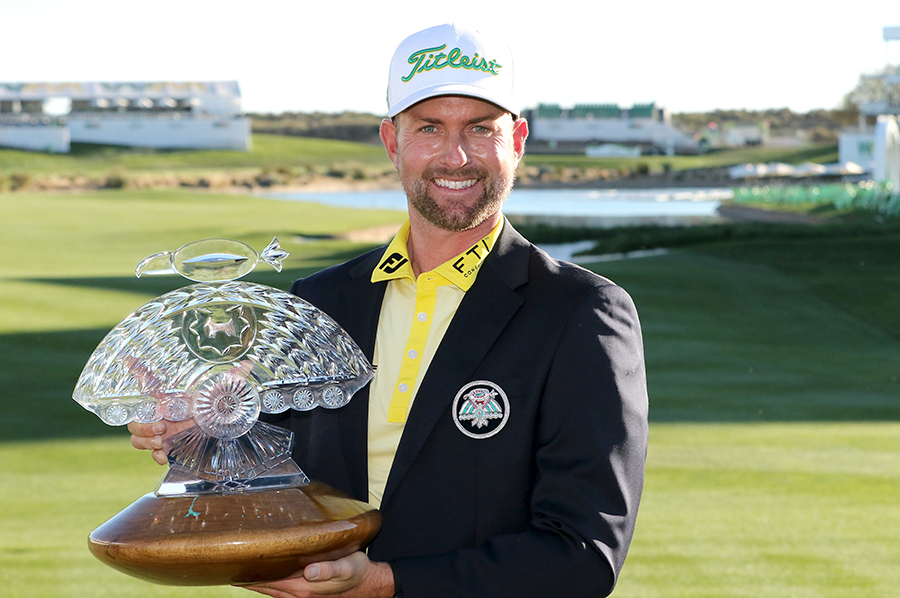 So often I think that players discover they are my Twofer Tuesday picks and are overcome by the magnitude of what is expected from them. I had
Matt Kuchar
(T16) and
Jon Rahm
(T9), two runaway favorites at this event... and both struggled to perform.
Top10s: 6 for 10 (2 Top5, 4 other Top10s)
Winners: 0 for 5 events
Watching the WM this weekend reminded me of an old story I heard about Abraham Lincoln, the 16th President of the US. (Stick with me; this'll make sense in a moment.)
I made a quick search and found the story recounted on this page at archive.org:
In Curtis's "Life of Lincoln," he tells the story of Lincoln's answer to the question: "How long should a man's legs be in proportion to his body?" He omits the names of other prominent men connected with the story. It was when Lincoln, Stephen A. Douglas, and Owen Lovejoy were traveling in a stage coach on their way to attend Court at Bloomington, Illinois. Douglas had a very long body and very short legs, being only five feet high; Lovejoy had a short body, and long legs proportionately, and all know Lincoln's build. Douglas "chaffed" Lovejoy about his long legs and ''pot belly" and Lovejoy retorted as to his very short legs, etc. One of them asked Lincoln: "How long should a man's legs be in proportion to his body?" and Lincoln replied: "I have not given the matter much consideration, but on first blush I should judge they ought to be long enough to reach from his body to the ground."
I thought about this because I kept hearing the announcers talk about how short Webb Simpson is off the tee and how hard it must be for him to compete, despite leading almost every statistical category except Driving Distance. And all I could think was "Apparently he's long enough to play these courses anyway." (See what I was doing there?)
This couldn't have been made clearer than in the battle between Webb and crusher Tony Finau, a player who I happen to like a great deal and who I hope starts posting more wins soon. Nobody seemed able to hang with Tony except Webb and, when they came to the 17th hole, all Webb did was go birdie-birdie to force a playoff and then birdie the first playoff hole for the win.
And after that, it seemed that all the analysts could talk about was Webb's mental toughness under the gun when it counts.
While it's true that Webb is a truly tough competitor -- just being one of the few to successfully learn a new putting stroke after the anchoring ban proved that -- the simple fact is that golf is not about just one aspect of the game, no matter how long you are. Webb already qualifies for the World Golf Hall of Fame -- you need only 15 wins on the official tours OR two majors (which includes THE PLAYERS), and while Webb has only six wins after Sunday, he does have a US Open and a PLAYERS.
More importantly, he got both of those wins playing against long hitters like Dustin Johnson. People seem to forget that!
So while I look for Tony to start picking up more wins soon, I'm extremely happy to see Webb pick up this one
mono a mono
against a bomber. I'm also extremely happy to present him with a freshly-prepared Limerick Summary, which is -- appropriately enough for a limerick -- never all that long anyway.
Yeah, they say Webb is short off the tee…
But his iron game's like sweet potpourri!
And his touch on the green
Was the difference between
Runner-up and the winner's marquee.
The photo came from this page at wmphoenixopen.com.