Winner:
Tiger Woods/Peyton Manning 1up
Around the wider world of golf: Jin Young Ko played Sung Hyun Park in the Hyundai Card Super Match. The match finished in a tie, which seems a bit anticlimactic to me, but they did generate a lot of money for COVID-19 charities.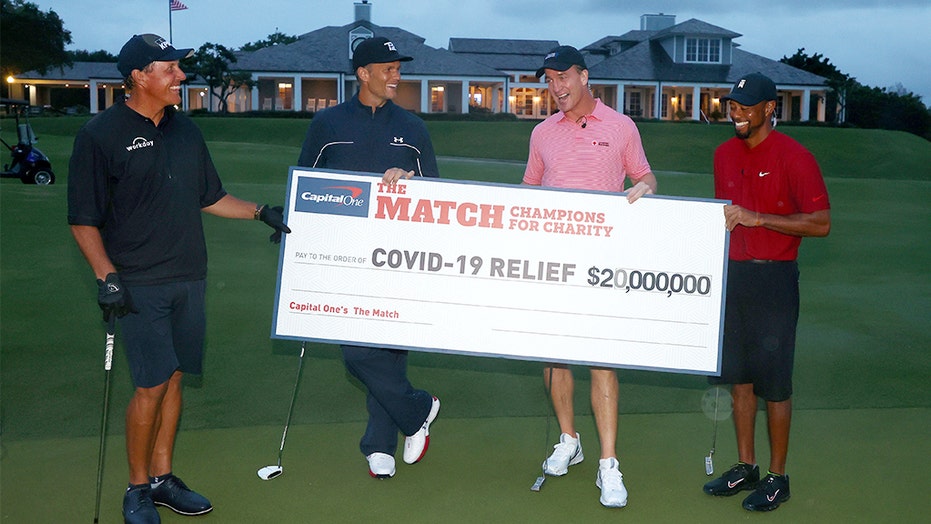 Take two superstars like Phil and Tiger and put them in a match play event -- especially since Phil beat Tiger the last time they did so -- and throw in two Hall of Fame NFL quarterbacks like Tom Brady and Peyton Manning as their partners.
Break the 18-hole event in half -- the front nine as fourballs, the back nine as alternate shot. Throw in some wet weather.
Then let them play for $10million dollars for COVID-19 charities, and give viewers a chance to add money as the event progresses.
That was the idea behind
The Match: Champions for Charity
... and it appears it was a success. As you can see from the photo above, the fans eventually doubled the original charity amount.
And I'm not sure that total includes the 300,000 meals that Seahawks quarterback Russell Wilson pledged on one of the challenges.
For those of you who missed it, here's the quick version: Tiger and Peyton went 3up in the first six holes, but Phil and Tom made it a game on the back nine. It came down to the final hole, with Tiger and Peyton winning 1up.
Of course, this makes Tiger and Phil even in one-on-one match play. You know they'll have to have a tiebreaker, right? We'll have to wait and see when that happens. In the meantime, Tiger can gloat a bit over getting another one over on Phil... and on picking up another Limerick Summary.
With Peyton and Tiger and Tom
And Phil teeing up, it was on!
Their charity play
Was the win of the day…
But now Tiger is tied one-and-one.
The photo came from this page at foxnews.com.