Twofer Tuesday is trapped in a time warp! A trip to the 2020 PGA Championship takes us to roughly the same time of year as the 2018 PGA!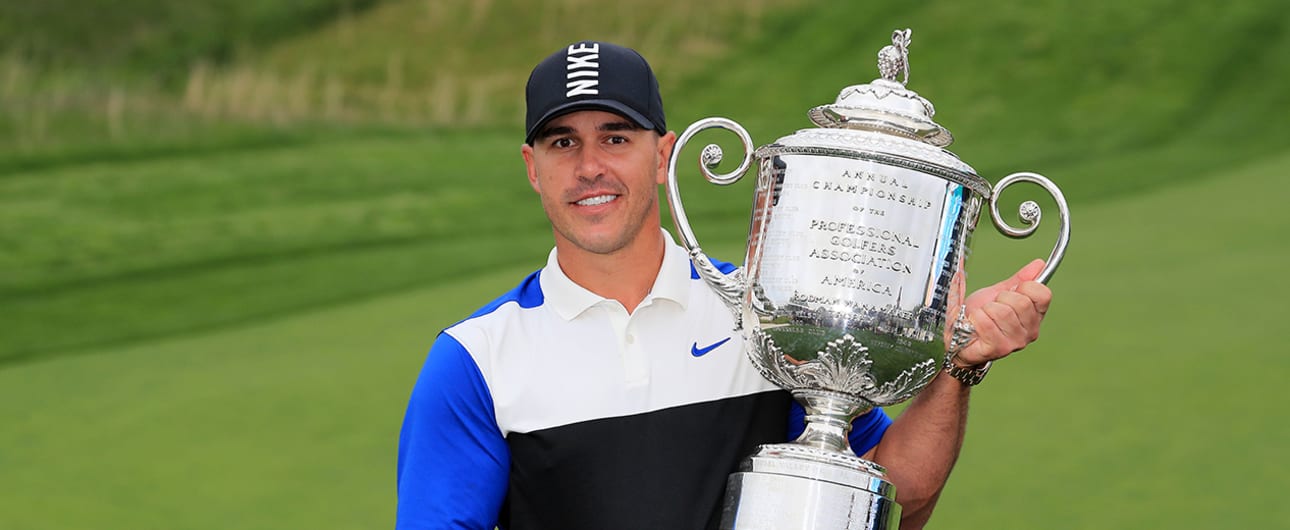 Well, I suppose we'll survive, given that the same guy won in 2018 and 2019. This time Brooks Koepka defends at TPC Harding Park in San Francisco CA.
The difference, of course, is the pandemic. This PGA will have no fans -- or at least none but perhaps the significant others of the players involved. There is a belief among some commentators that this may open up the potential for an unexpected winner, an inexperienced player who may benefit from the lack of fans. Fewer people on site watching, less pressure on the participants -- or that's how the theory goes.
We'll see about that. Majors carry a pressure all their own, regardless of how many fans are watching.
In the meantime I have to pick two players to finish in the Top10. Forget untested theories -- I'm going chalk.
After a near miss last week at the WGC, it's hard not to believe Brooks Koepka will find a way to get it done yet again. The chance to win a fifth major, as well as make history with a three-peat -- that's just too much for a gamer like Brooks to pass up. The massive improvements in his game last week lacked only one thing -- a dependable fade. I bet he'll have one of those this week!
Let's see now, who were the last three PGA champs? Brooks won in 2019 and 2018... and Justin Thomas in 2017. The only three-time winner this season is coming off a WGC win where he beat... defending champ Brooks Koepka? Sure, he's been a bit erratic but he's got a win and a runner-up in his last three events. Sure sounds like a recipe for success to me!
ESPN and CBS split the coverage duties this week. If you've got the ESPN+ streaming service, you can watch from 10am-4pm ET on Thursday. But whether you've got that or not, ESPN will air the event from 4pm-10pm ET Thursday. Bear in mind that both will likely be live, as there's a three-hour time difference between the East and West Coasts.
I'm interested to see if the "no pressure" theory actually plays out in San Francisco... but I wouldn't bet on it. I'll be shocked if the winner doesn't come from the Top20 in the world rankings.