Winner: Hudson Swafford

Around the wider world of golf: This was a week for twofers! John Catlin got his second ET win in three weeks at the Dubai Duty Free Irish Open; Jared Wolfe got his second Korn Ferry Tour win of the season at the Wichita Open; Carson Young got his second pro win of the season -- but first PGA TOUR Latinoamérica -- at the Jacksonville Championship; and Laura Wearn got her third career Symetra Tour win at the IOA Golf Classic. And IceCat let me know that Song Yi Ahn won her second career KLPGA title at the Fantom Classic while Chang Woo Lee picked up his first KPGA win at the Hyundai Maritime KJ Choi Invitational.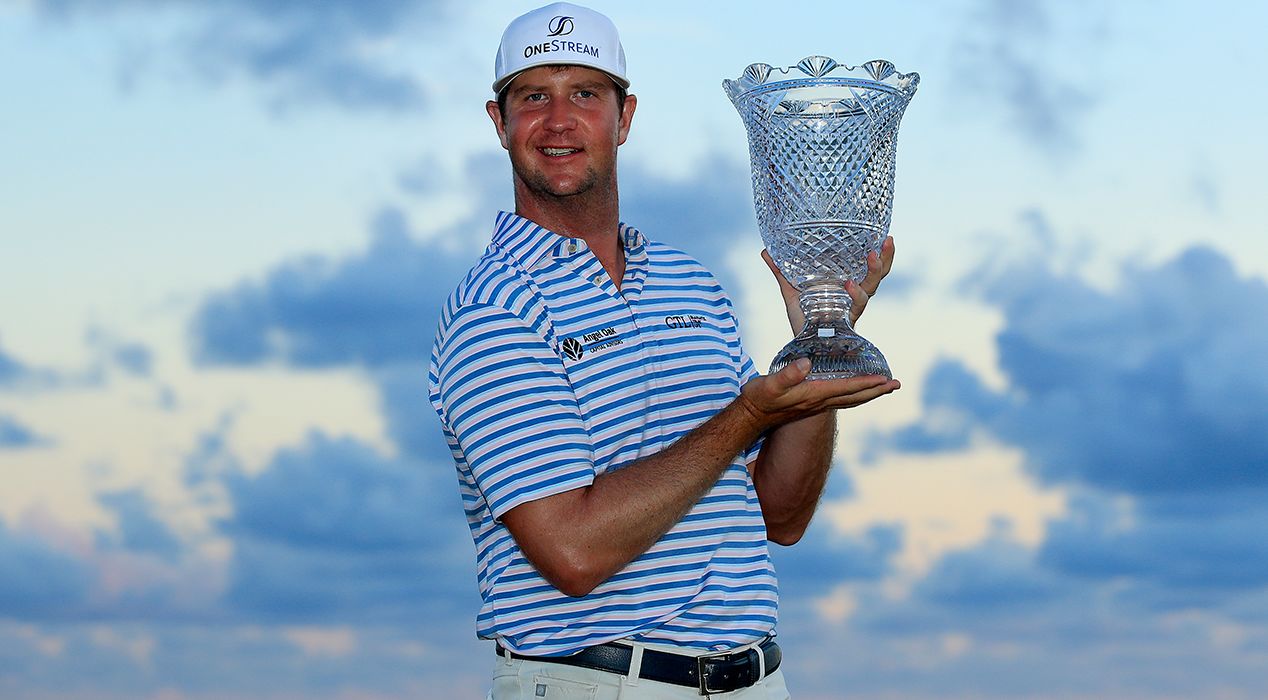 My Twofer Tuesday picks had a few surprises for me. I had Will Zalatoris (T8) and Thomas Detry (T33). Early on it looked as if Thomas might give me a Top10 while Will barely made the cut, but then Thomas faded on the weekend while Will made a charge. I'll happily take whatever I can get!

Top10s: 22 for 52 (9 Top5, 13 other Top10s)
Winners: 2 for 26 events
The Corales leaderboard was filled with two types of players -- those seeking their first wins and those coming back on medical extensions. And to be honest, it was hard to tell who was having the harder time. No one could build a lead and hold it for long.
But Hudson Swafford, who had only two events left on his Major Medical, seemed to get it together best. He built a three-stroke lead that looked untouchable until he hit the back nine on Sunday. Poor pitches on 12 and 13 -- the latter of which was a double bogey -- and another bogey on 15 wiped away his cushion.

But that double? It was Swafford's only double of the week. And that bogey was one of only five for the entire week. Twenty-one birdies (which included the winning birdie on 17) and two eagles (tied for most during the week) were just too much for the rest of the field to overcome.

It was Swafford's second PGA Tour win, and it couldn't have come at a better time. Not just because his Major Medical was running out but because this time the Corales was a full-fledged FedExCup event, giving him all the perks that go with a regular win.

Including a trip to the Masters next April. The new dad has a lot to look forward to!

In the meantime, Hudson picks up a shiny new Limerick Summary to remind him that he's back in the winner's circle again. Congrats, man!

While most folks relaxed on the beach,
The field found themselves under siege.
By the end of the day
Hudson's scoring display
Grabbed a vict'ry once out of his reach.