Winner: Bryson DeChambeau
Around the wider world of golf: Jim Furyk went two-for-two by winning the Pure Insurance Championship, his second start on the Champions Tour; Georgia Hall got her second LPGA win at the Cambria Portland Classic; Garrick Higgo won his first ET victory at the Open de Portugal at Royal Óbidos; Julia Engstrom won her second LET title of this season at the Lacoste Ladies Open De France; and Ayaka Furue won the Descente Ladies Tokai Classic on the JLPGA (thanks, IC!).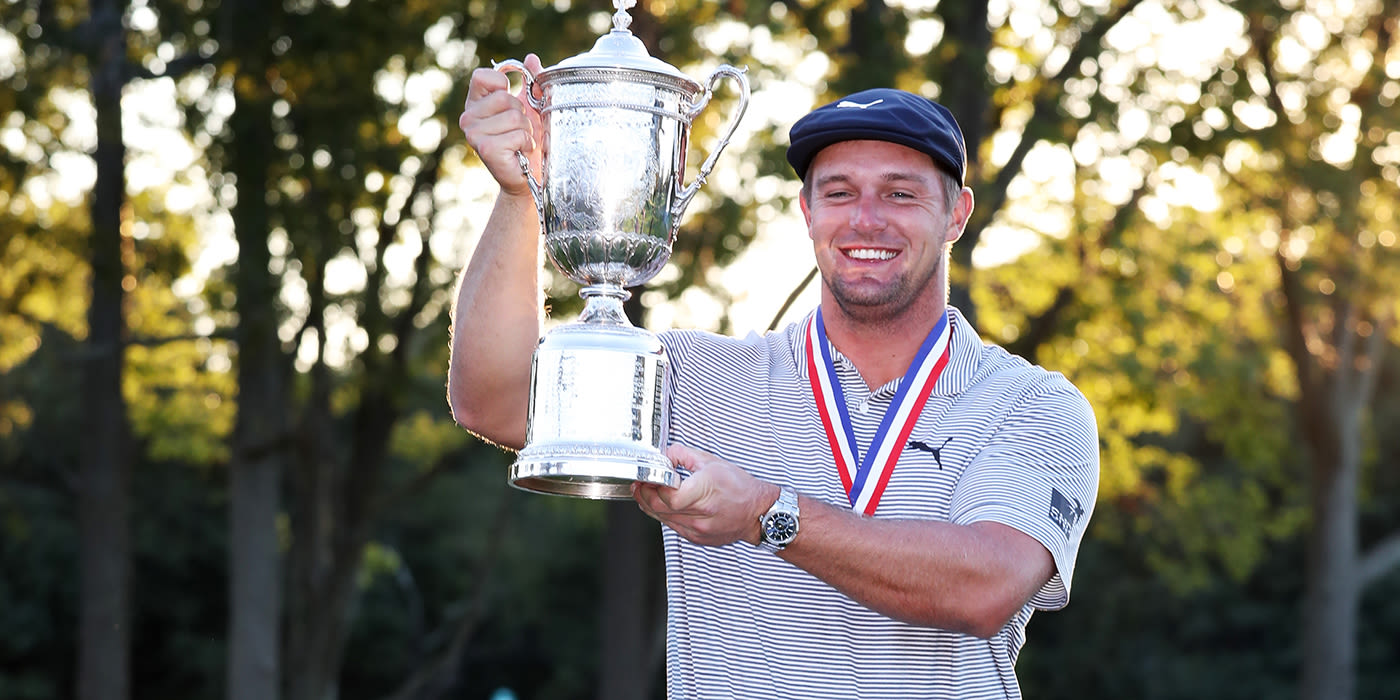 My Twofer Tuesday picks, like so many other people's picks at Winged Foot, struggled with the course. But I had Dustin Johnson (T6) and Webb Simpson (T8) and both got me Top10s, so I'm satisfied.

Top10s: 21 for 50 (9 Top5, 12 other Top10s)
Winners: 2 for 25 events
Yes, I can freely admit that Bryson DeChambeau was a surprise winner. It's not that I didn't think Bryson was good enough to win -- he's pretty accurate with the driver when he's on and he's strong enough to dig the ball out of the rough. But it was his well-publicized plan to break Winged Foot with long drives that seemed unbelievable.
And once again the Mad Scientist proved that he's not so mad after all... plus he proved that the 'Mad Scientist' moniker seriously shortchanges his depth as a player.

He was the only player to shoot under par in the final round (-3) and he was the only player to finish the tournament under par (-6). And along the way he demonstrated an amazing array of imaginative shots, feel shots, skill shots and just plain mind-blowing shots. And he did it without ever losing his focus or cursing his luck.

Along the way he showed everybody that there's more than one way to play this game -- a belief that seems to take hold of this sport (and life in general) every time somebody does something new in a dominant way.

I suspect we're going to hear a lot of debate about whether Bryson's win this past week is good or bad for the game. I'll just make a couple of observations about what may happen going forward:
In the "How Can We 'Bryson-proof' Our Courses?" department: Despite having learned that 'Tiger-proofing' just made courses better suited for Tiger because he, better than anyone else, adapted to the extra length, my guess is that the powers-that-be will at least consider graduated rough -- that is, the rough will get longer as it gets closer to the green. It won't work because Bryson is so strong, but I won't be surprised if it gets suggested.
And in the "What Will Bryson Do Next?" department: Bryson was pretty vocal about his intent to try a 48-inch driver. Brandel Chamblee suggested that Bryson might try using it to draw the ball around the doglegs at Augusta... but I think he's not thinking enough like Bryson. Given that Bryson hits the ball higher than anybody else, if he can get control of a 48-inch driver in time for the Masters, I think we'll see him (in a practice round at least) try taking the ball OVER the trees on 13 to drive the green. If he's successful, just imagine the scene if Bryson gives himself a putt for an albatross every round...!

In the meantime, I hope Bryson just takes a couple of days off to enjoy this massive victory... and maybe read his first major Limerick Summary. Well played, Dr. DeChambeau, well played!

They told him it couldn't be done
But now that the trophy's been won
DeChambeau is king
'Cause this whole science thing
And its test results say he's The One.