It's the end of the bizarre 2020 season and Twofer Tuesday drags its weary body to the final event, the Tour Championship.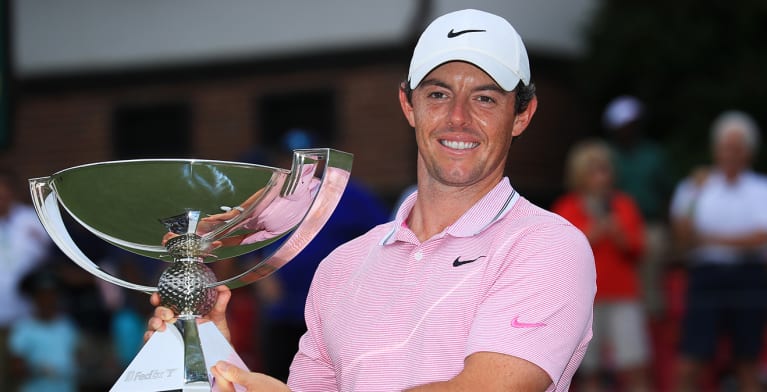 Yes, it's back to East Lake with the Top30 in the FedExCup points list to see who takes home the BIG prize.
You all know the routine by now. The players start with staggered scores -- DJ starts at -10 and the scores fall away as you move through the field until you reach numbers 26-30, who all start at even.
And while Rory is the defending champion, a certain young lady may cause him to miss his defense depending on when she arrives.
So who am I picking this week? At least theoretically, the odds of picking a Top10 player are pretty good since there are only 30 players in the field and we could see more than one player tie for the 10th spot. But I'm padding my chances...
My first pick -- no surprise -- is Dustin Johnson. With two wins and two runner-ups (one at the PGA) he's playing as well as I can remember. And having seen that little fist pump on 18 when he made the playoff on Sunday -- a reaction we rarely see from DJ -- I think he's gonna make a run at the FedExCup title this year.
My other pick -- again, no surprise -- is Webb Simpson. Webb would have been a pick last week had he played and, given how well he's done for me in the weeks before, I have no reservations picking him for the big game this week.
If you're interested, pgatour.com has an assessment of every player in their Power Rankings this week. My picks are ranked #4 and #3 respectively. That's no guarantee that I'll get a couple of Top10s, maybe even a win, but it sounds good to me.
The Tour Championship runs from Friday to Monday -- for those of you outside the US, Monday is a US holiday known as Labor Day -- so GC's coverage begins Friday at 1pm ET. Of course, the new 2021 season begins the very next week at the Safeway Open, but that's another post...