Winner: Jason Kokrak

Around the wider world of golf: Adrian Otaegui won the Scottish Championship on the ET; Phil Mickelson is now two-for-two after winning the Dominion Energy Charity Classic on the Champions Tour; Hayden Hopewell won the Nexus Risk WA Open on the Australasian Tour; and Matilda Castren won the Mission Inn Resort & Club Championship on the Symetra Tour. Plus, IC sent me these winners from the Asian tours: Yuki Inamori won the Japan Open on the Japan Golf Tour; Jiyai Shin won the JLPGA's Fujitsu Ladies Golf Tournament; and Hyo Joo Kim won the KB Financial Group Star Championship, the KLPGA's final major of their season. (Thanks, IC!)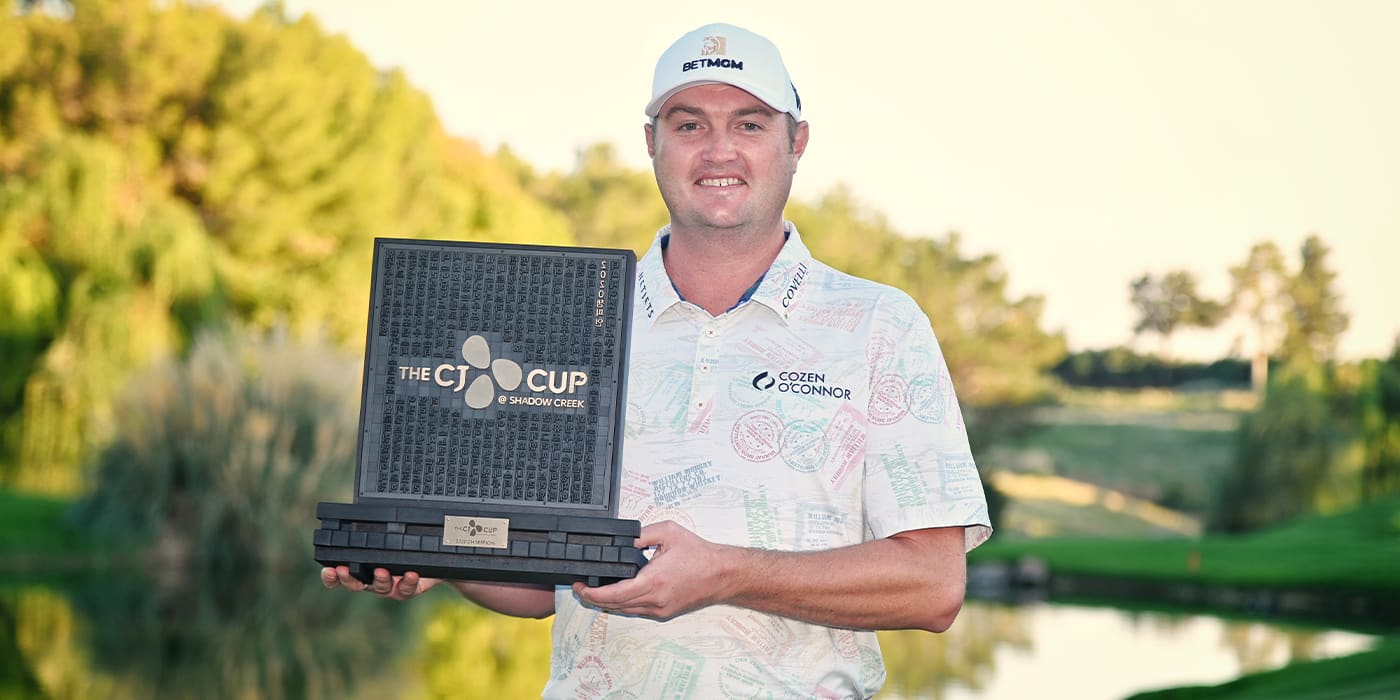 I didn't have a very good week in Vegas. My Twofer Tuesday picks were Patrick Cantlay (T38) and Matt Wolff (73). Ironically, I mentioned in my picks that I would have liked Tyrrell Hatton if he hadn't had all the travel and stuff to deal with... and he finished T3. So much for logic.

Top10s: 23 for 56 (9 Top5, 14 other Top10s)
Winners: 2 for 28 events
Travel wasn't an issue for Jason Kokrak, who, as an ambassador for MGM Resorts, had played Shadow Creek quite a bit.
In fact, few players in the field (except my Twofer Tuesday picks) seemed to have any issues with the course. Their only problem was keeping pace with Kokrak and Xander Schauffele, who separated themselves from the field pretty quickly.

The back nine was pretty much just match play, basically settled by a Schauffele bogey on 16 and a Kokrak birdie on 18. Kokrak's final drive was so long and accurate that it was basically just a driver-wedge for him on the par-5.

Kokrak's first PGA Tour win took ten years and some teamwork -- specifically, Jason credited his caddie David Robinson for reading his putts and recommending he go to a 36" putter earlier this season. Never underestimate the caddies, folks!

So along with all the long-awaited bling, Jason Kokrak also picks up his first Limerick Summary. In my opinion, it was certainly worth the wait!

A decade spent chasing a dream
Got real with the help of his team.
Jason picked up the prize;
Now he's one of the guys
Who rose up to the top, just like cream.