I'm still not sure how the LET's OMEGA Dubai Moonlight Classic slipped up on me. It's not like it's a new tournament or anything -- in fact, I've watched it in the past.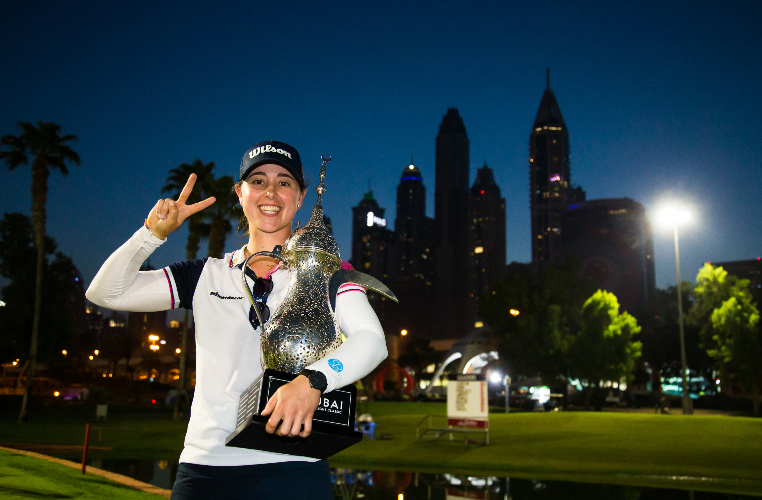 After a little thought, I've decided I missed it because, after being played in December every year since 2007 (the first edition in 2006 was played in October), the event wasn't played in 2018 and was played in May last year, when the 'moonlight' aspect debuted.
It doesn't help that GC doesn't mention it at all in the list of events on their homepage. I found it quite by accident on Wednesday morning when the 'moonlight' part of Round 1 was being televised.
Yes, the 54-hole event is a bit different from most events because half of each round is played in the dark. This year it runs from November 4-6, it's played at the Faldo Course at The Emirates Golf Club, and the 56-player field is split into a day/night shotgun start with half of the field playing under floodlights. It's way cool!
(Just to be thorough, one of the Gulf news sites I checked only mentioned the first 36 holes being played under the lights but the official site seems to indicate it's all three. That makes more sense to me.)
Caroline Hedwall leads at -7 after the first round.

The trick is that, here in the US, GC is only showing the moonlight part of the event, with Round 2 starting at 10am ET this morning. It's possible to stream some of both the day and night parts at this link, depending on where you live, so be sure to check.

I don't understand why GC has failed to list this event on their website or post a leaderboard -- although Golf Central did do this short piece about Round 1 -- but it's a sad oversight on their part. This is, as I said, a really cool tournament.