Winner: Brian Gay

Around the wider world of golf: Darren Clarke finally got his first Champions Tour win at the TimberTech Championship; Callum Shinkwin got his first ET win at the Aphrodite Hills Cyprus Open; Ana Balac got her first Symetra Tour win at the Carolina Golf Classic; and Daniel van Tonder got his fourth Sunshine Tour victory in his last six starts at the Investec Royal Swazi Open. Plus, IC tells me Hana Jang won the KLPGA's SK Networks Seokyung Ladies Classic while Yuna Nishimura won the JLPGA's Hisako Higuchi Mitsubishi Electric Ladies Golf Tournament. (Thanks again, IC!)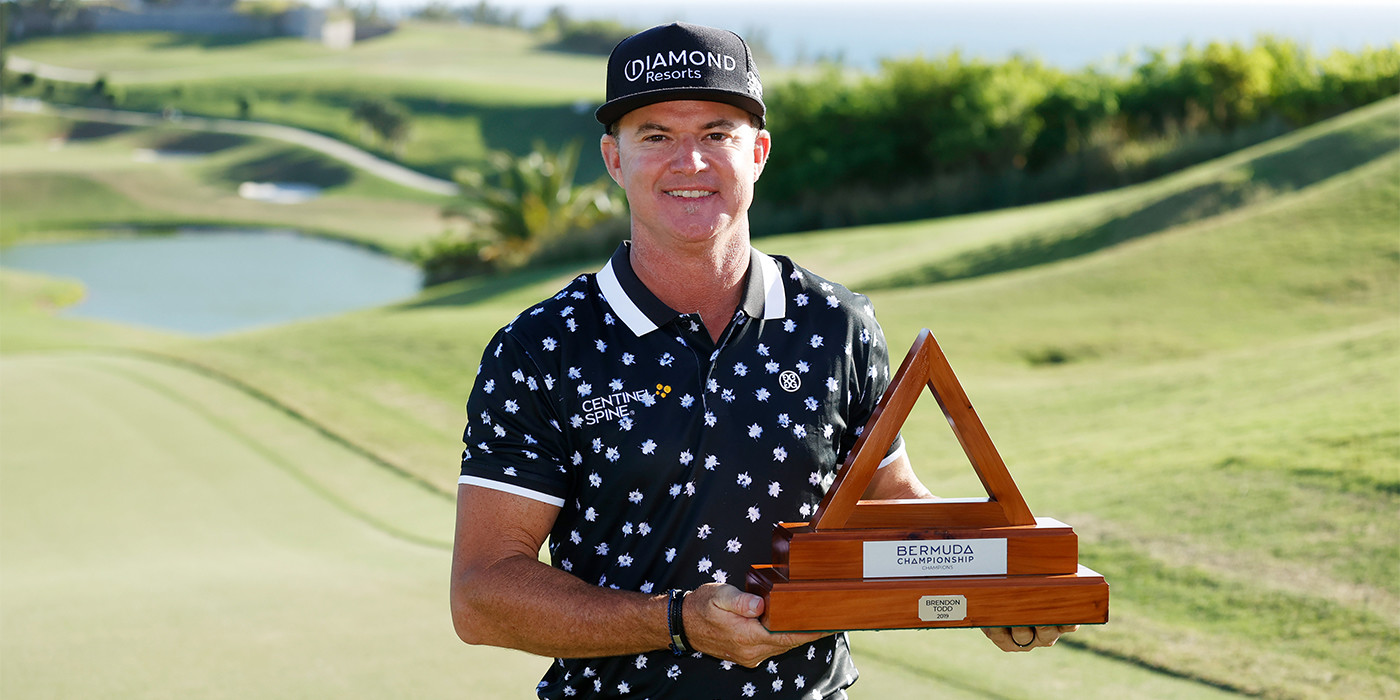 My Twofer Tuesday picks struggled in Bermuda. I had Will Zalatoris (T16) and Rasmus Hojgaard (T37). Rasmus just had an off week but Will was specifically derailed by the winds with a 72 on Friday. Had he just matched his average for the other three rounds (68) he would have given me a Top5. At least he got his Special Member Status.

Top10s: 23 for 60 (9 Top5, 14 other Top10s)
Winners: 2 for 30 events
As it turned out, Brian Gay was the man on the move Sunday. Wyndham Clark jumped out to an early lead, shooting -5 on the front nine, only to stall out with a mere -1 coming home. Brian shot -3 on the front nine and blistered the back nine with another -4.
That extra birdie came on the final hole of regulation -- from the rough, no less -- while Clark could only manage a par. And on the first playoff hole Brian repeated the feat (this time from the fairway) to become the oldest PGA Tour winner since Davis Love back in 2015.

Brian Gay is known as a short hitter with a hot putter, but his iron play is really underrated. Good putts don't help you a whole lot if you don't get your approach shots close enough to capitalize on your putting! Brian did just that on Sunday, with that amazing approach from the rough on the 72nd hole and another makeable attempt in the playoff.

Gay's career is pretty amazing when you think about it. He came on Tour in 1999, after the Tiger rampage had already begun, yet he has managed to win five times in three different decades... and has never lost his card during that time. And this win comes just a month before his 49th birthday, so he'll be playing until he qualifies for the Champions Tour, should he decide to focus there.

In the meantime, Brian, you go celebrate your most recent win... and your most recent Limerick Summary.

It had been seven years since he won
But Brian is still far from done!
Though his drives aren't that long,
All his irons are still strong
So this win shouldn't shock anyone.