Winner: Dustin Johnson

Around the wider world of golf: Emily Kristine Pedersen won the inaugural Aramco Saudi Ladies International on the LET. Also, Ayaka Furue won the Ito En Ladies Golf Tournament on the JLPGA; Hye-jin Choi won the ADT Caps Championship on the KLPGA; and Jinichiro Kozuma won the Mitsui Sumitomo Visa Taiheiyo Masters on the Japan Golf Tour. (Thanks, IC!)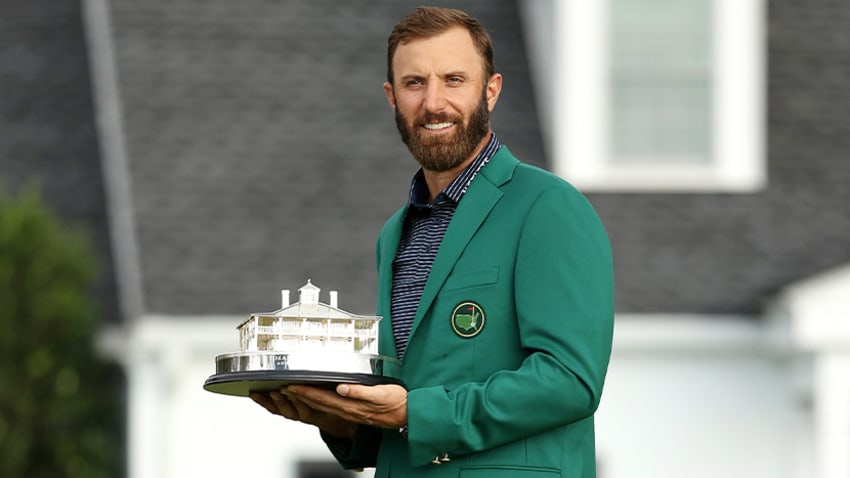 I was 1 for 2 with my Twofer Tuesday picks again, but this time it was feast or famine. I had Jason Day (MC) and Dustin Johnson (1). Jason continued to be snakebitten at Augusta but DJ gave me the best Top10 possible.
Top10s: 25 for 64 (10 Top5, 15 other Top10s)
Winners: 3 for 32 events
Let's be honest here. I expected DJ to do well, simply because he's been in good form this year and the forced layoff due to the quarantine didn't seem to hurt him much last week. He already had three wins and three runner-ups in 2020 coming into this week. But even I was shocked at how good he played at Augusta.
He became the first Masters player to post two 65s in the same week. He set a new Masters scoring record at -20. He won by five strokes, which only a handful of winners have done. He had only four bogeys all week. His final round 68 tied Tiger for the lowest by a 54-hole leader/winner. He brought his total number of wins to 24.

And he broke down crying while talking to Amanda Balionis after he put on the Green Jacket. That in and of itself made history.

I kept hearing the announcers talk about how DJ had failed to close out 54-hole leads in majors. But things change... and DJ has shaken the golf world by doing what they were afraid he would never do. With four wins this year, including a Masters and a FedExCup, he has rewritten the script going forward.
Am I saying DJ will continue to win at this pace? Of course not. Regardless of how good you are, streaks are a real thing. A refusal to accept that comes with a heavy price. Tiger played more consistently than anyone else over his career but it has cost him dearly in longevity. I don't see DJ making that mistake, and that means he'll have some bare spots... eventually.

But not right now.

Whatever happens going forward, the Johnson clan will have a great holiday season, despite the pandemic. So let's just add his newest Limerick Summary to the bling and say congratulations.

Some folks spoke his name with a smirk;
Didn't matter how much DJ worked.
Some folks said he's done;
Now with two majors won
Seems the whole world's been put on alert.