Winner: Carlos Ortiz

Around the wider world of golf: Minjee Lee won the LET's OMEGA Dubai Moonlight Classic; Robert MacIntire won the ET's Aphrodite Hills Cyprus Showdown; Frida Kinhult won the Symetra Tour Championship; and Ruan Korb won the Sunshine Tour's Times Square Challenge. IC tells me that Jiyai Shin won the JLPGA's Toto Japan Classic (the pandemic kept it from being the normal LPGA event); Seung Soo Han won the KPGA's LG Signature Players Championship; and Na Rin An won the KLPGA's Hana Financial Group Championship. And the playoff between Kevin Sutherland and Paul Broadhurst (6 holes already) at the Champions Tour's Charles Schwab Cup Championship will continue Monday morning at 10am ET on GC. [UPDATE: Sutherland won it in 9 total playoff holes.]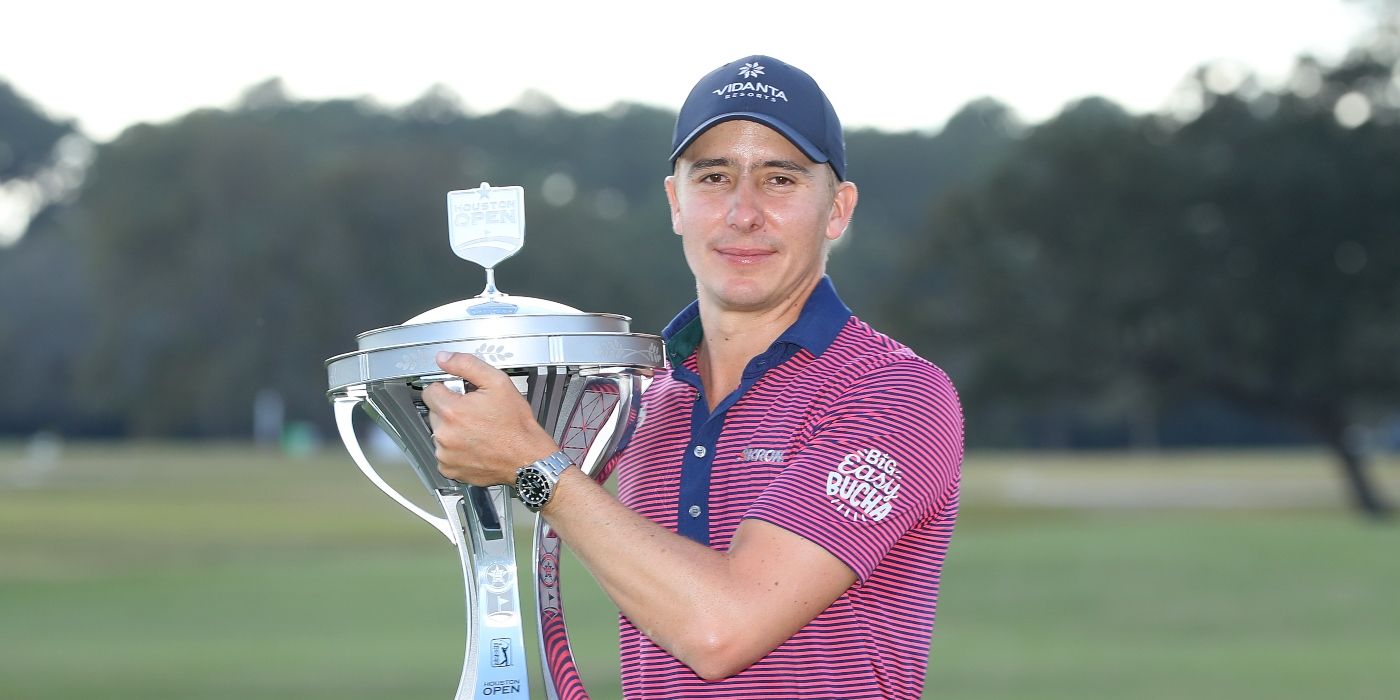 I was 1 for 2 with my Twofer Tuesday picks. I had Doc Redman (T61) and Tyrrell Hatton (T7). Tyrrell played a great final round to get me a Top10.
Top10s: 24 for 62 (9 Top5, 15 other Top10s)
Winners: 2 for 31 events
I was actually shocked at how many of the top players got into contention over the weekend, given that none of them had seen this venue before. Memorial Park Golf Course hasn't been used at the Houston Open since 1963, and the course makeover meant the greens would be a bit unpredictable as well.
Despite helping with the redo, I didn't expect Brooks Koepka to have as strong a showing as he did. Nor did I expect Dustin Johnson (coming back from his COVID layoff), Jason Day (bothered by back problems since the restart), Hideki Matsuyama (who has just been struggling, period), nor the other great names who seem to have found some form the week before Augusta.

Under no circumstances would I have expected Carlos Ortiz to outlast them all. With nothing better than a T25 since the restart, and chased down the back nine by DJ and Hideki, I wouldn't have expected him to handle the pressure. While he has three Korn Ferry Tour wins, they were all back in 2014. It's just not something you expect when a player is still seeking his first PGA Tour win.

But boy, did Carlos prove me wrong! Not only did he stand up under the pressure, but he played aggressive shots and pulled them off, time after time. And when he sank that eagle putt on 18 to win by two over DJ and Hideki, I'm sure they were as shocked as I was. It's just not what you expect from a first time winner.

Now Carlos gets a trip to Augusta -- he was there last year to watch his brother play, but this time he'll be the player -- as well as his nearly three-year card and all the bling that goes with a win. And of course, he gets a Limerick Summary as well. Congrats on your first one, Carlos!

When Carlos holed out at the last,
Hideki and DJ got passed
As he beat them by two.
So what else could they do
But applaud as they stood there, aghast?