Winner: Matt Jones
Around the wider world of golf: Justin Harding made a little magic of his own at the Magical Kenya Open on the ET; Roberto Diaz got his first Korn Ferry Tour win at the Chitimacha Louisiana Open; Jbe Kruger won the Gauteng Championship on the Sunshine Tour; Ruixin Liu won the Carlisle Arizona Women's Golf Classic on the Symetra Tour; and Sakura Koiwai won the T-Point X ENEOS Golf Tournament on the JLPGA (thanks, IC!).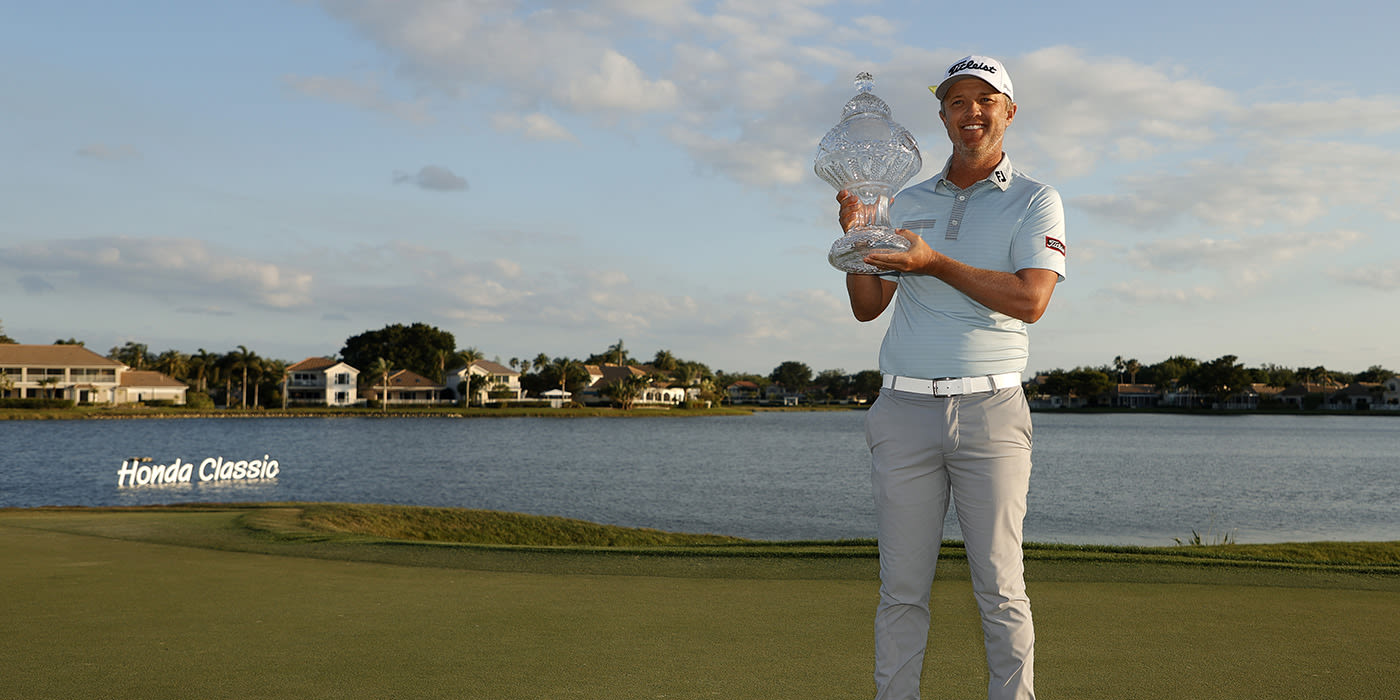 My Twofer Tuesday picks deserted me this week. I had Lee Westwood (MC) and Brandon Wu (MC). I knew Brandon would be an untested quantity at PGA National, but Lee... let's just say it would have been nice if he had told me he planned to play 54 holes at Augusta before the tournament! (I guess the two rounds he played Monday gave him a Twofer Monday, which doesn't roll off the tongue at all.)

Top10s: 8 for 22 (5 Top5s, 3 other Top10)
Winners: 0 for 11 events
But Matt Jones, nearly seven years removed from his only PGA Tour win, definitely showed up at the Honda. His bogey-free record-tying 61 in the first round, in windy conditions on a hard and fast course, left everybody in shock. (It probably shouldn't have; Matt's a two-time winner of the Australian Open, a major on the Australasian Tour and one of the four or five oldest professional tournaments in the world, having been first played in 1904. And we all know how tough Australian golf courses are.) From there he just needed to hang on and let everybody else self-destruct.
And that's exactly what the rest of the field did. While he lost the lead during the second round when he shot even par, his three-under weekend blasted him past everybody for a five-shot win.
Matt's comment that he doesn't get nervous on the golf course also shocked some people, but his steadiness on his way to this dominating win certainly proved the truth of it. That doesn't mean that wins mean nothing to him, of course -- you could see the emotion when he won. But dealing with tough conditions on the course is a different matter, and his steady play through the windy weather made it look like nothing to him.
Yes, it's a shock that Matt hasn't won more often... but then again, while it's a trite thing to say, it's true: Winning on any tour is hard. But given what we've seen this week, as well as all the big events this win qualified him for, we may see him win another one before long.
So, since Matt won this one in such an unexpected way, I thought I'd give him an equally unusual Limerick Summary. To get the full effect, you need to pronounce the words at the end of the 1st, 2nd and 5th lines as 'ah-tah', 'wah-tah' and 'nah-dah'. It's not exactly an Australian accent but it's almost as much fun to say!
Matt ended his drought like he oughta—
By winning amidst lots of water!
A record first round
While the other pros drowned
Meant, when asked what he'd done, he said "Nada!"