Twofer Tuesday leaves the madness of match play for the more placid pace of stroke play at the Valero Texas Open.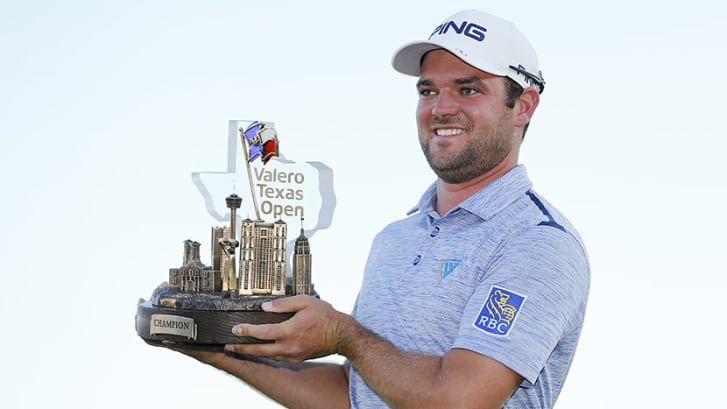 Okay, maybe placid isn't the right word. TPC San Antonio has a reputation for tough winds, tight fairways and tortuous greens. Nevertheless there are a number of players who seem right at home on the AT&T Oaks Course... and assuming you can catch them when they're on their games, you've got a good chance to pick up a couple of Top10s to add to your stats.
If you're playing a Twofer Tuesday like me, that is.
Corry Conners is the defending champ from 2019 -- the Valero was another casualty of the pandemic last year -- but the first-time PGA Tour winner was certainly on point as he worked his way around the course and its hazards.
A number of players who are 'horses for this course' are potentially in good form this year. Ironically I'm not sure the tournament's top money winner, Charley Hoffman, is one of them so I'm looking elsewhere. Let's see if I can catch lightning in a bottle.
My first pick is Matt Kuchar. Matt's a bit of a gamble simply because he played seven rounds last week and was clearly losing a little steam on Sunday. You could also argue that his game has been a bit off this year. But it looks to me like he found something last week in the Texas winds on that tight little Austin course, so let's see if he's got some of his magic back.
And my other pick is Ryan Palmer. No, he didn't do so well in Austin last week, and his season has been kinda spotty, posting good finishes one week and not-so-good the next. But he definitely seems to love something about TPC San Antonio and, like Kuch, I see some promising signs in his game. This could be the week he's been waiting for.
GC's live coverage starts Thursday at 4pm ET, between broadcasts of the ANA Inspiration. I think the more relaxed feel of stroke play will suit the players this week... and the lure of the Masters next week may even serve to give them a second wind.