Winner: Garrick Higgo
Around the wider world of golf: It was a busy week for golf! Mito Pereira got the battlefield promotion to the PGA TOUR by winning the BMW Charity Pro-Am on the Korn Ferry Tour; Jerry Kelly successfully defended at the American Family Insurance Championship on the Champions Tour; Brandon Matthews won The Club at Weston Hills Open on the PGA TOUR Latinoamérica; Matilda Castren became the first Finn to win an LPGA event at the LPGA MEDIHEAL Championship; Morgane Metraux won the Island Resort Championship on the Symetra Tour; Jonathan Caldwell won the inaugural Scandinavian Mixed Hosted by Henrik & Annika jointly sponsored by the ET and LET (Alice Hewson was 'low female', finishing 2 shots back in solo 3rd); Joo-hyung Kim won the SK Telecom Open on the KPGA; Min Ji Park won the KLPGA'S Celltrion Queens Masters; and Serena Aoki won the JLPGA'S Ai Miyazato Suntory Ladies Open. [Thanks for the Asian updates, IC!]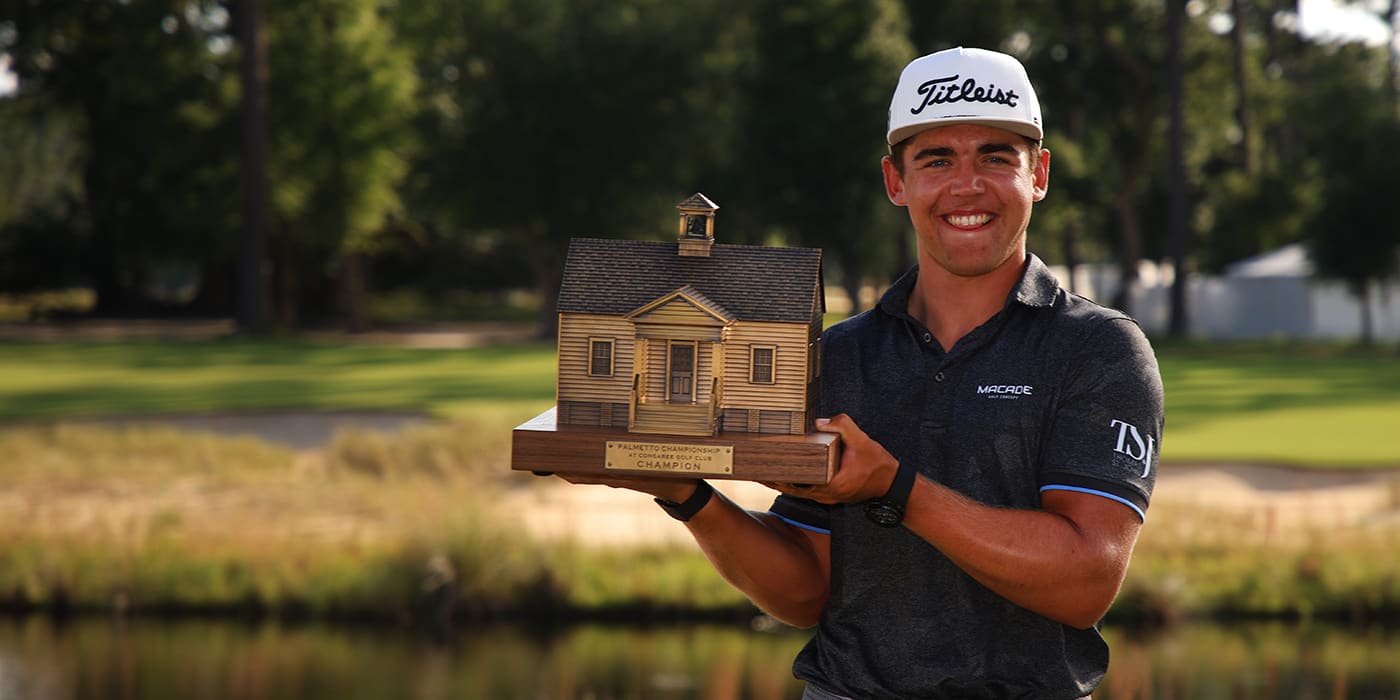 Talk about extremes -- my Twofer Tuesday picks this week were feast or famine! I had Patton Kizzire (MC) and Garrick Higgo (1). Patton surprised me by missing the cut but Garrick did even better than I dared dream, giving me my first winner of 2021!

Top10s: 14 for 48 (10 Top5s, 4 other Top10)
Winners: 1 for 23 events
Let me start by saying I feel really bad for Chesson Hadley. It's got to be a gut-wrenching feeling to lose a 4-stroke lead on Sunday... but I hope he'll step back and realize how much this tournament gave him to build on. Even Jordan Spieth coughed up some leads on his way back from his struggles and Chesson's win drought lasted over twice as long as Jordan's, plus Chesson had a lot more missed cuts over the last few months. It's just tough to get a win when you're working your way back.
But then again, he -- and the rest of the field -- ran into a buzzsaw when Garrick Higgo showed up in South Carolina. As you'll remember from my Twofer Tuesday post, I picked Garrick because he had won twice in Europe over the last couple of months, made the cut in his first major at Kiawah Island, and came from a part of the world where courses like Congaree are common. I felt he was on form and could easily post a Top10.
Then he posted the clubhouse lead at -11 with a final round 68 (-3)... and all the favorites just couldn't keep up. I mean, six players finished in second place, all of whom (except Chesson) shot as low or lower than Garrick but were too far back when the day started to catch him.
Now Garrick has his PGA Tour card, along with three wins on two continents in just two months. Who knows what he might do going forward? At least we know he's getting his first Limerick Summary!
He's won twice in Europe this year
And he's done it again over here!
The PGA Tour
Now has Garrick for sure
And his odds for success are quite clear.